It has been a while since I've watched such a terrible film that rather than review it the only things I can think about are the ways it could have been saved, and at least been made passable. The last time I did this was for "Twilight" and this is that level of garbage quality. I'm working on a larger review for the anime of "Death Note" currently as I recently rewatched it and the level of quality holds up. It was one of the first animes I ever saw and it is what made me appreciate how anime can be used to discover deeper philosophical ideas and gives us complex characters. This film has none of that and is a failure on nearly every level with the exception of Willem Dafoe as Ryuk. So that is the 1 / 10 I would have given this film, it is all thanks to a single actor's performance.
In setting the parameters for how I'd fix this film, I can't change the casting. L is still black and Light, his father and Misa/Mia are white. I accept this could possibly still work and with this Top 5 I will show 5 ways that could have helped it work. Though with a mess like this, I know that not all of it will be salvageable. I'm here to save what I can and give you a passable film.
5 – Give It a Soundtrack Similar to the Show 
First lets start with the opening theme song, which is metal in theme and gives us the stakes right off the back. We have intensity and drama and the lyrics are meant to capture the revolution that Light wants to bring about with himself as God. It is full of rage and sadness which encapsulates the humans caught up in the drama of the "Death Note." We also get some dark instrumentals, which capture the dark tone of the characters such as L's theme, which is methodical and like a heartbeat. This is a show that is so compelling because the music pulls you into the characters' heads and doesn't let you out. The fact that it is a crime drama and thriller isn't lost in the soundtrack that Yoshihisa Horano and Hideki Taniuchi created for the series. This is a soundtrack I will keep coming back to and getting rid of the cheesy 80's score in the movie and creating a soundtrack pulling from these 2 themes could have helped carry the terrible writing that covered the script of this awful film.
4 – Give Us a Single Protagonist 
This is a film that did not know what it wanted. L and Light have no clear agenda or clear cut philosophy as we see Light ready to abandon his the moment Mia wants to kill his father and we see L abandon his when he is worried about Watari. Because there wasn't a clear arc there was no clear story. We had 3 main characters – Mia, Light and L…but none of them had a clear agenda or were fleshed out all that well. Mia was a psychopath who just wanted to kill but we see that she loves L, L wanted to bring Light to justice but was ready to go all Kira to save Watari and Light spoke about wanting to bring criminals to justice but never did. If we had been given a clear protagonist this would have been solved. In the show it is easy to flesh out the themes and arcs because Light drives the action and L, the Police, Near or Mello are a reaction to his actions, this keeps the narrative going and in the end, "Death Note" is about Light and exploring the premise of his utopia. This film had no real protagonist and in doing so none of the characters were fleshed out or clearly defined. I couldn't tell you what any of these characters want and that is due to lack of a clear focus or single driving force for the narrative.
3 – Show Don't Tell
One of the major problems the show had is it revealed everyone's role in the plot right off the back. Light reveals he has a Death Note to Mia and brings her in on his game of becoming Kira and L reveals his face to Light and says he knows he is Kira and will bring him to justice. This is all tell and no show. One thing that could have saved this script is if it had taken a note from the show. We should be getting reveals during the climax and when it will make the greatest impact upon our characters. In the show L tells Light he is a suspect but it isn't until much later that he speaks about certainty he is Kira and Light plays the role of dutiful son. In this Light is a brat and crybaby who pretty much admits to L that he is Kira when they first meet. It is shoddy, crappy storytelling and if the reveals had been held off later so they actually meant something we'd have more time to explore and see who these characters are. That way the reveals give us another dimension. The only reveal that is in this film is that Light was manipulating Mia the entire time…though given she's presented as the primary antagonist it doesn't reveal Light to be evil, it just shows he has some level of self-preservation.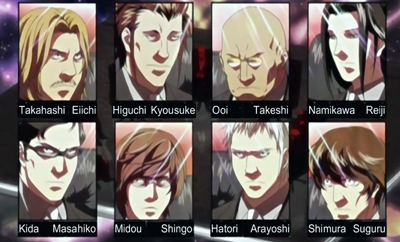 2 – Adapt An Arc From the Show
Okay, I can't change the fact that the leads have been cast and it takes place in Seattle. This will make it difficult given their acting isn't all that great, but they can still be in an interesting story. Give us an arc from the show. Give us the Yotsuba Arc where the Death Note has passed onto the member or a corporation who is killing off his competition and it is up to Mia, L and Light to work together. They can still debate the ideas of the Death Note and be under suspicion but now we get a thriller and a mystery as we don't know who holds the Death Note. All we know is one of the leaders in a Corporation has the Death Note…and given this takes place in Seattle they could Amazon, Microsoft, Starbucks or countless others to explore it which would give us more nuance and depth and pull us away from the awful teen romance that was the focus of the film this time around. This is only one of the arcs from the show, they could also have Kira's Cult be explored and Have L in the place of Near and Mello and show the means he has to go to in order to reveal Light as Kira or they could give Mia and Death Note and have her actually act like Misa's character and have them both under suspicion of L doing the main arc L goes through in the show. That is 3 arcs they could have used right there and they don't have to change casting or anything, they just have to know the subject matter they are adapting and pull from the great stories that already exist within the show. Any of these could have given us a clear theme versus the listless mess we get with the film.
1 – An Unambiguous Ending 
This is a film that sucks all the way through, from start to finish…it messed up so bad it couldn't even give us a clear ending. At the end Light is talking to his Dad and he mentions that he realizes he was choosing between 2 evils and his father asks him which one he is. Did they expect a sequel to come out of this? Light or L should be dead and Light should be free showing us that his ends were justified or that he can no walk away and give up the Death Note or with him dead and L finally bringing him and Mia to justice with Ryuk ending it with writing Light's name in the Death Note. Hell I'd settle for the death of either L or Light because it would give clarity to a film that had none. A good ending can make a bad film okay. This film had a terrible ending and all it had to do to fix it was give us the death of Light or L and with it a clear point on what side was correct.
These are the Top 5 Ways I'd fix this god awful travesty of a film. Again if I was scoring it it would be 1 / 10, so a lot could be done to fix it, and most of these things are basic storytelling ideas. How would you fix this film if you were given the chance? If you had to adapt "Death Note" how would you go about doing so? Curious to hear your thoughts and it is a shame this film wasn't deleted before Netflix brought it to the small screen.