This was a great year for film. Hell, the honorable mentions I'll be talking about were in tight competition for 5th place and it was only due to multiple viewings it won as there was no other film I saw a second time in theatres this year. As always, I'm curious to hear about your lists and what films would be your Top 5, Top 3, Top 10 or Worst of as well. Lists are a lot of fun to do, and I stick to 5 because I want the 5 to mean something. Making a Top 10 would be far too easy given how great this year (and past years) have been for film so keeping it tight makes the order actually mean something. So lets kick things off with some Dishonorable mentions before I get into the films I actually liked.
Dishonorable Mentions:
This was a year where a few films had great premises but horrible execution. I walked out of "Justice League," so I can't recommend that, "The Circle" was technology paranoia garbage with an amazing cast who could not save it, "The Dark Tower" missed the entire point of the book and series and felt like a forgettable cheap action flick, and "Split" was an insult to those suffering through mental disorders while being a poorly done horror film and "Deathnote" is a film that misses the entire point of the source material and is a poorly cast and acted Netflix endeavor. These are my dishonorable mentions and films not worth your time I saw this year.
Honorable Mentions:
This was  great year for film and choosing my 4th and 5th place were difficult so I'm going to do something different and say a little bit more than my dishonorable mentions in regards to the honorable mentions.:
Wonder Woman – This was a film we needed this year, from the "Metoo" movement to a sexual predator being elected president.."Wonder Woman" was the answer to that as we got Gal Gadot rocking it as the only thing keeping the DC film afloat. I loved her film and how Robin Wright as her mentor is just fantastic. It only really falls apart in the 3rd Act, and the fact none of the villains work, but you should check it out. I own this film and I can't wait to watch it again.
https://cameronmoviesandtv.wordpress.com/2017/06/05/wonder-woman-2017-dc-finally-finds-a-hero/
Guardians of the Galaxy Vol. 2 – This film was also in tight competition for making the list as I love how it explores toxic masculinity (Ego being one of the best Marvel villains thus far), father figures and abuse and explores my favorite characters in the MCU (Yondu and Rocket). For me it was on par with the first film, but there were sadly films that were better in both loss and character exploration.
https://cameronmoviesandtv.wordpress.com/2017/05/09/guardians-of-the-galaxy-vol-2-2017-the-greatness-of-these-characters/
Logan Lucky – This is a heist film told through the eyes of the southern working class stealing from Nascar. It is beautifully done with Daniel Craig's Joe Bang and Adam Driver's injured vet Clyde Logan as the stand out performance. Only thing against it is the 3rd act is overlong. I did drowse off a little during the heist which is the worst thing that can happen in a heist film. Loved the movie though.
https://cameronmoviesandtv.wordpress.com/2017/08/26/logan-lucky-2017/
Coco – "Coco" is easily one of the best films Pixar has put out. This is a film that explores family, mortality, death, loss and does it all through the lense of "The Day of the Dead." The biggest thing going against it is I hated the protagonist until he finally stops acting selfish, but his family, especially those in the the Land of the Dead are awesome. I can't recommend this film enough.
https://cameronmoviesandtv.wordpress.com/2017/12/05/coco-2017-an-amazing-pixar-epic-that-explores-family-and-love/
Colossal – "Colossal" is a powerful indie film that explores abuse and healing from it. Anne Hathaway does an amazing job as the unlikable drunk who has burned all her bridges but is trying to put her life back together while Jason Sudeikisis's Oscar is a fantastic villain and threat. The fact that it is also a monster film on top of all of this is a reason why it was so hard for me to keep it from making 5th place, the characters aren't really likable except for Hathaway's character until the end though, so that was a dealbreaker for me.
https://cameronmoviesandtv.wordpress.com/2017/05/18/colossal-2017-an-amazing-exploration-of-monsters-as-metaphor/
Logan – The post-apocalyptic genre is popular and this is a film that is essentially "The Last of Us," but with X-Men. There is no hope in this film as both Professor X and Logan are the last of the X-Men in a broken world. They both find purpose in X-23, Laura an experiment who escapes and has Logan's power. This film is one I own and highly recommend seeing. It didn't make 5th though because in the end it didn't have a point. This is a film with no hope, though it gives our protagonists some amazing sendoffs.
https://cameronmoviesandtv.wordpress.com/2017/03/08/logan-2017-a-dystopic-western-masterpiece-that-explores-the-depths-of-pain/
That was the competition, and believe me it was close, so without further ado, here are my Top 5 Films of 2017: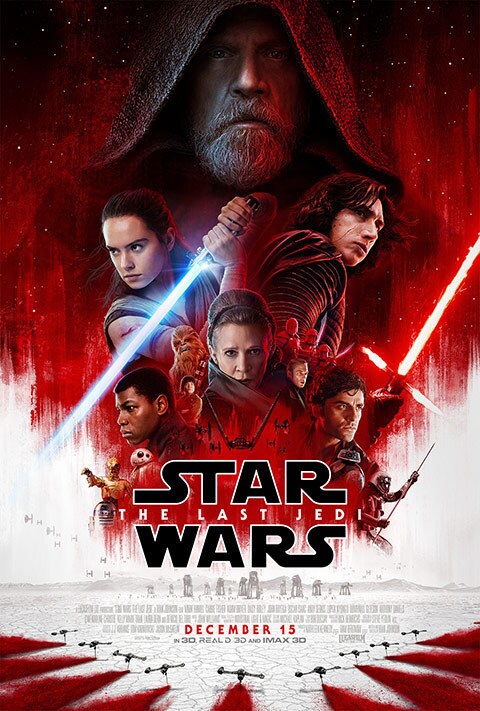 5) Star Wars Episode VIII: The Last Jedi
Director Rian Johnson
"The Last Jedi" was a film that not only managed to subvert what expectations I had (was expecting an "Empire Strikes Back" rehash) but was also about the Resistance and First Order finding an identity beyond the Original Trilogy. This film explores this through the minor characters of Rose and Holdo as well as through Kylo Ren's choice. The themes of resistance through class are given voice as well as showing the corrupt can be more than Jabba's gangsters. Every action has consequences and no one wins. This is a film where you feel loss and it doesn't stop hitting you with that loss, but it is still Star Wars and it remembers hope, even in despair. This was Carrie Fisher's last film and in this we see why she is both one of the last Skywalkers and the General of the Resistance. R.I.P. Carrie, you got quite the sendoff as your film was the only film this year I saw in theatres twice and loved just as much each time.
https://cameronmoviesandtv.wordpress.com/2017/12/21/star-wars-episode-viii-the-last-jedi-2017-an-amazing-subversion-of-expectations/
4) War for the Planet of the Apes
Director Matt Reeves
Much like "The Last Jedi" this is a film full of loss and explores the themes of resistance and in the end what sentience means. This is the end of the Caesar's story and the Prequel Trilogy and it is powerful all the way through. This film brought me to tears a few times as you see both Caesar's humanity and pain. The Ape characters are once again the most human but Woody Harrelson's Colonel is one of the best villains this year in how warped and nationalist he is, while still being vulnerable…as you see this is after the nuclear fallout and all that remains are military outposts in a world that is ready to leave humanity behind, while at the same time we have hope through the young Nova, who recognizes the apes humanity and in turn it shows her own. Andy Serkis deserves an Oscar for this role and I hope Matt Reeves gets to make his Batman film. He is a brilliant director and in this we see what happens when humans lose and gain their humanity as we lead into the world of "The Planet of the Apes."
https://cameronmoviesandtv.wordpress.com/2017/07/23/war-for-the-planet-of-the-apes-2017-growing-beyond-caesar/
3) Get Out
Director Jordan Peele
I can't wait to see what Jordan Peele's next project is, as "Get Out" is his first full length film he both directed and wrote. This brilliant social satire is fantastic in how the mystery unfolds and why our hero returning to this nice small town full of rich white people is so horrifying as nothing is as it appears to be. As a thriller, an exploration of racism and classicism and as a horror movie it really works. The only place where it falls flat is we never get the motivation of the people who inhabit the town and I would have liked to learn more about the protagonist's girlfriend's motivation in the film.  Regardless, this is a film I highly recommend, and was number 1 for me for a long time until the other 2 upcoming films came out.
https://cameronmoviesandtv.wordpress.com/2017/03/17/get-out-2017-a-brilliant-horror-film-that-tackles-racism-and-privilege/
2) Baby Driver
Director Edgar Wright
"Baby Driver" is a work of musical, editing and cinematic genius. You are shown rather than told so much and every character is a flawed anti-hero with the exception of Debra, who is Baby's (our protagonists) girlfriend. The music is genius and I love how it tackles the different ways certain characters are trying to escape or to free themselves, whether it is through internal redemption through an act of bravery, seeking revenge or owning up to mistakes and actions. This film is so much fun and the soundtrack by Steven Price, is easily the best soundtracks of the year. I can't wait to see what Edgar Wright does next, but I'm glad he left "Ant-Man" and the MCU as this was the work of art we got in return as this was a film be both wrote and directed. Again, this film has an amazing story but the film is worth it for the music and visuals alone. Up until yesterday, this was my Number 1 film of the year.
https://cameronmoviesandtv.wordpress.com/2017/07/07/baby-driver-2017-the-unforgettable-soundtrack-of-a-life/
1) The Shape of Water
Director Guillermo de Toro
Sometimes you have to wait and the order of a list can be upset. The first Top 5 I created in 2014 had "Noah" as Number 1 until I saw "The Grand Budapest Hotel" and the genius of Wes Anderson upset Darren Aronofsky. This happened once more with the genius of del Toro upsetting Wright. Why is "The Shape of Water" Number 1? Because it does what all the other films do as either better or on par. Like "War for the Planet of the Apes," "The Last Jedi," and "Get Out," it explores the themes of resistance and the voiceless as our mute protagonist Elisa fights to save the creature who is being tortured by the government agent in the lab, as her closeted roommate Giles and co-worker Zelda hep her succeed. The villain like in "War" and "The Last Jedi" is an insecure Colonel (in a creepy and powerful performance by Michael Shannon) who abuses others while assuming he has a right to others because of his position and privilege. The music is on par with "Baby Driver" while the cinematography and story are like a surrealist fairy tale. This is easily one of the best movies of all time and I can't wait to buy it when it comes out. There was steep competition this year in films but after seeing this film, this film deserves its place at the top, and I can't wait to see what else is born out of the fantastic imagination of Guillermo del Toro who not only directed but co-wrote and co-produced this unforgettable film.
https://cameronmoviesandtv.wordpress.com/2018/01/05/the-shape-of-water-2017-a-transcendent-romantic-fairy-tale/
This was an amazing year for cinema, though a crappy year for politics and many of the people these movies were fighting for. I'm curious to hear what your Top 5, Top 10 or worst films of the year are as well and I can't wait to see what 2018 brings in regards to the fantastic stories that can be born out of the art of film.