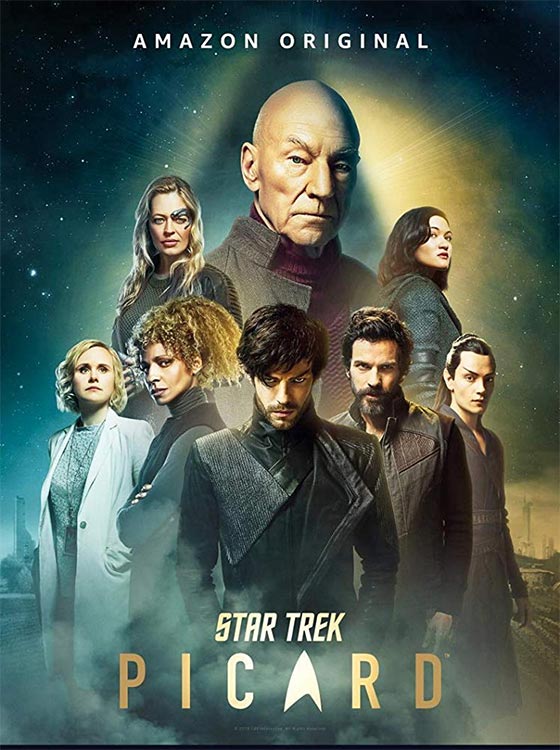 Season 1 of "Star Trek: Picard" is flawed but has more that works than doesn't in the end. This is a series that is willing to explore quite a few different factions that are at odds and still focus on the characters who drive the story. It doesn't all work, I would not call this series great but it is good and has the potential to be great in future seasons. This is a review that will include SPOILERS so warning you now, I'm exploring what works and doesn't work about this season for me so I will be in the details. Continue reading at your own risk. In the end, more worked for me than didn't and I really hope we see characters and the world developed further in Season 2.
This is a season reflection so will contain SPOILERS as it covers what I liked and hated in the narrative.
The Pros:
Premise – The premise of the show is really strong. You have a Federation that has retreated from the world and outlawed the building of synthetics after synthetics destroy the shipyards on Mars. This in turn leads to a refugee crisis as Mars was building ships to help get Romulans out of the blastzone of the Hobas Supernova. Picard resigns in protest against Starfleet, which brings us to the present and Dahj, an android made from Data's postaron seeking out Picard's protection after an attempt is made to kindap her.
Soundtrack – Jeff Russo's soundtrack is beautiful and reflective and has a hint of melancholy about it. This worked really well as what drives the show is Picard facing is own mortality and what he wants to make of the rest of his life as he comes out of retirement. The theme song reflects this well as well as the underlying mystery as Dahj and Soji discover they are androids slowly and the soundtrack captures that.
Cinematography – Picard is a good looking show. The cinematography is movie quality and the use of sets and green screens are blended together really well.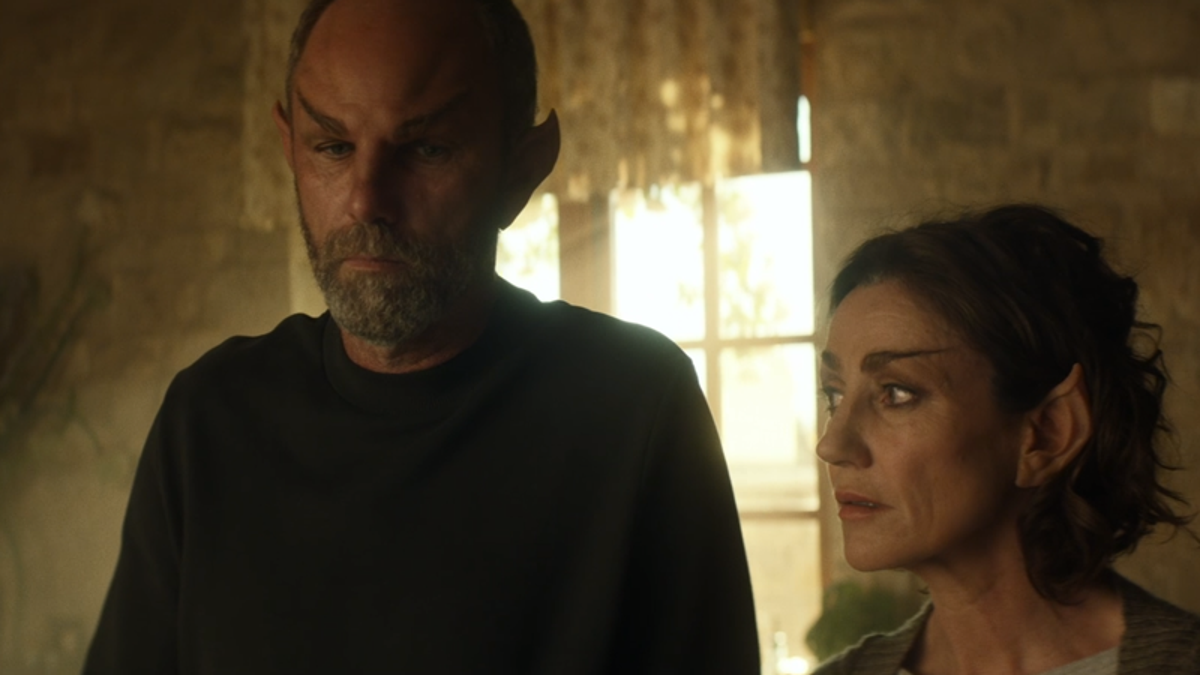 Laris and Zhaban – Laris and Zhaban are former Tal Shiar and Picard's carekeepers at the winery. Laris is one of my favorite characters on the show and both of these characters bring a human face to the conflict. They believe in Picard and helping the refugees and are the ones who tell Picard about the Zhat Vash. I wish we had gotten more time with both of them as we saw they have given up their old ways but still use their training to protect.
Zhat Vash – The Zhat Vash are a secret order that seeks to destroy all synthetic lifeforms as due to a beacon left on a planet they saw that advanced synths will destroy all life. The members of the order we meet are Oh, Narissa and Narek. Oh is half-Vulcan while Narissa and Narek are adoptive siblings. All of them are damaged in different ways and see their desire to protect the universe from the synths above all else. I'm really curious to see if we will learn more about them in Season 2 as they do not succeed in destroying Soji's people and the new Synths made from Data.
Seven of Nine – Seven of Nine has changed since the last time we saw her, and I appreciate the direction it took. She is part of the Rangers who are a group fighting criminals in the area that was once the Neutral Zone. Seven finds her story tied to Picard as she gets revenge against the woman who killed Icheb. After she is pulled back to Picard when Elnor uses Hugh's emergency beacon and she and Elnor fight the Romulans with Seven even taking control of the Cube as a Queen at one point. After she and Elnor are taking care of the Ex-Borgs until they rejoin Picard. I'm curious to see her relationship with the Ex-Borgs explored further and her relationship to whatever form the Borg are now. Jeri Ryan did an amazing job.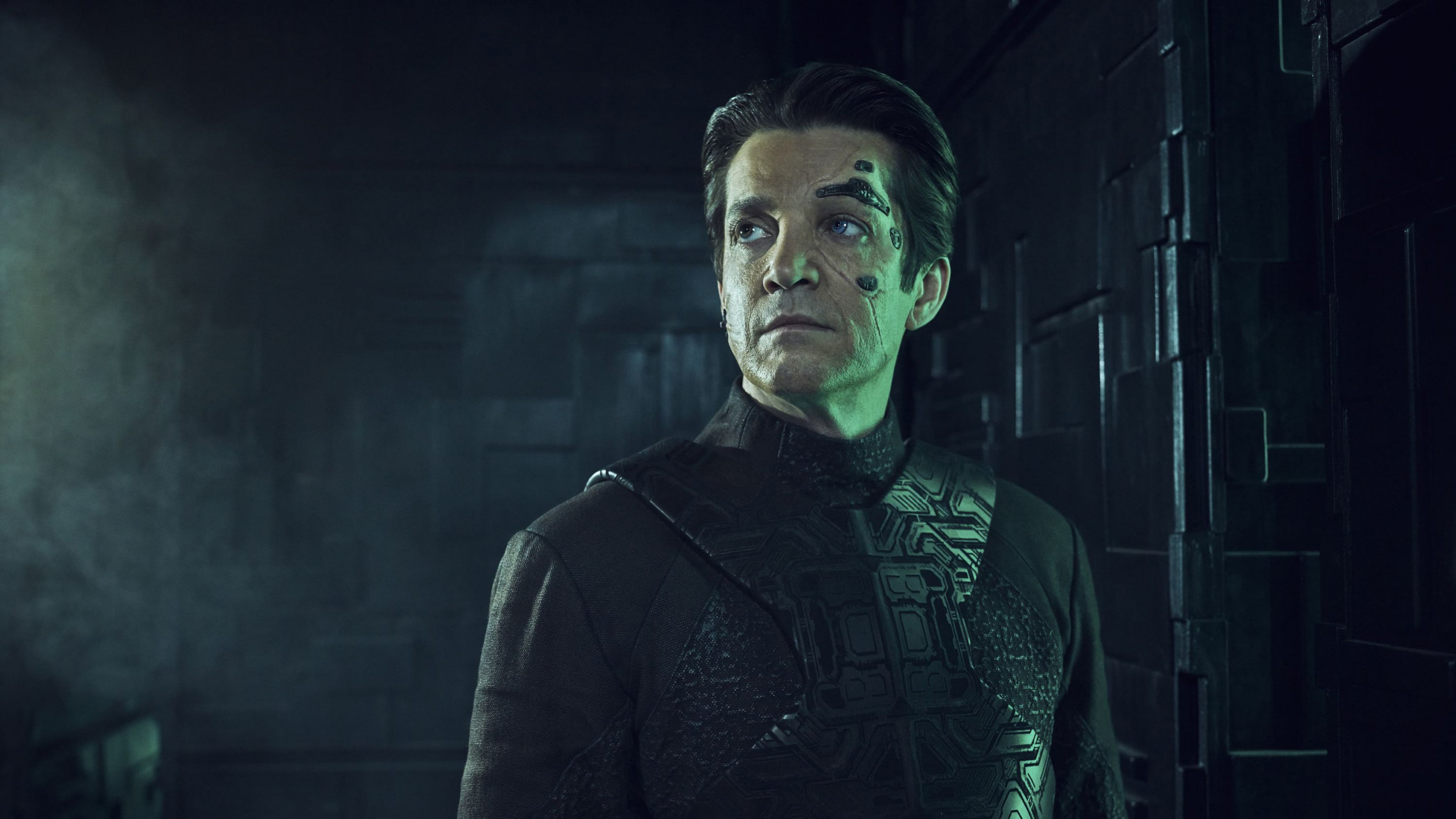 Hugh – Hugh was my favorite character besides Laris and Jonathan Del Arco returned to this character beautifully. He is the Director on "The Artifact" and is helping Ex-Borg also called xBs heal from the trauma of assimilation. The fact that the Romulans are good with him until he tries to get to the Queen's room says a lot for Federation influence and the impression he left. He reminds Picard of how all xBs were victims of the Borg Collective and Picard doesn't have to ask twice for him to help. He is only killed when is scene as breaking the treaty by helping Elnor and the Zhat Vash agent "Narissa" kills him. I hated this death initially and but on further reflection, him dying fighting to help another is fitting as that was his final act in "Descent" Part 2 which was his final appearance on "The Next Generation" and lead to him leading the free Borg who had been under Lore's control. I do hope they bring him back in some capacity, flashbacks of how he knew Seven of Nine would be very fitting or if Seven gets a show have it be during the time when he was alive.
The Crew – I liked the crew though it is hard for me to really choose one who I like more than the characters mentioned above. Soji brings a curiosity and presence as Data's daughter, Raffi brings empathy and cynicism, Caption Rios is broken with hidden idealism and Agnes, Elnor is the young innocent and ruthless bodyguard and Agnes is the torn over honest doctor. Each of them bring something reveals a part of Picard as his relationship to them also reveals aspects of them. It is a good crew and if I had to choose favorites it'd probably be Elnor and Captain Rios.
Riker and Troi – Riker and Troi offer relief for Soji and Picard from the Zhat Vash and Riker arrives with the Federation fleet to protect the Synths from the Zhat Vash. Seeing how much all of them had grown and their relationship to one another was powerful. Sirtis and Frakes truly inhabit their roles and they brought much needed wisdom that Picard needed. I hope this isn't the last of them we see on the show.
Picard – This main story on the show is that of Picard and him facing his regrets, trauma and mortality. He faces his regrets in his going into retirement rather than seeking to change Starfleet, he faces his trauma in once more facing his history with the Borg and what was done to him and his mortality in his illness and death. In the end he is granted a chance to live without the illness, though it involves finally saying good-bye to Data and granting his last wish for death.
Data and his Legacy – Data's legacy lives on the synthetics and the society they created when Maddox and Alton Soong used his positrons to make them. In the end it is one of his "children" Soji who saves his people and lives his idealism over the fear that is felt towards him and his people. We also see that he has been living in a holographic world since his psyche was saved out of B-4 after "Nemesis." In the end he wants to die to complete his quest to become human and like a human his life lives on in the society made from him. It is beautifully done and Spiner finally gave Data the sendoff he deserved.
Confronting Fear and Persecution of "The Other" – Another theme of the series was fear of the other and facing it. Hugh had become the Director on "The Artifact" to protect and take of the xBs as he told Picard, they had no home and everyone feared them. Those same rules applied to synthetic from their outlaw by the Federation and the Zhat Vash quest to exterminate them. We see Soji's people and herself fear and experience first hand. I hope this thread isn't dropped as it as all the more important today.
The Cons:
Dropped Plot Threads – There are quite a few dropped plot threads that hurt the narrative. We have the xBs and them forming a civilization with Seven of Nine and Elnor and it is just forgotten as we see Seven and Elnor as member's of Picard's new crew in the final shot. We never learn why Maddox left the Synthetic homeworld, which given he would have been protected there made no sense why he'd leave. These are just a few of the dropped plot threads that could have easily been wrapped up with more dialogue at the very least.
Lack of Starfleet Perspective – Everyone in the crew and even Picard are all former Starfleet. This I think is a disservice as Starfleet comes to save the day at the end but no one within Starfleet is picked up as a part of Picard's crew. This was a missed oppurtunity and would have been a great oppurtunity to have someone who contrasted with the rest of the crew. They wouldn't even have to be "Next Generation" cast, just someone who still believed in Federation but also felt they had to help Picard and his mission.
Actual Political State of the Romulans – We learn about the Zhat Vash, meet a Romulan Refugee planet and that the Romulan Free State was in control of "The Artifact" which was the Borg Cube. Is the Romulan Star Empire gone? Is the Romulan Free State the only organized faction or are there others? The Romulan Star Empire was huge but I had no idea if they even had an Empire anymore as we only have the Free State who the Zhat Vash seem to control. This would have been such an easy fix and could have been solved in showing us a map of the region.
The Synthetic Threat – The Reaper like Synethic threat are a faction we get a glimpse of but are never taken on directly. We learn that they exterminate organic life and apparently come from another dimension and not much more than that. We even see one coming through the portal but that threat is never addressed. They are put away when at the very least I wish we could have learned more about this threat that caused the Zhat Vash to destroy the Romulan rescue fleet when they hacked the synths on Mars.
This was a flawed show but in the end it was good. I liked the moments the show slowed down and we got to know where Riker and Troi were. When we got to know the villains they became compelling and the characters who returned had lives that took fascinating directions. The show was flawed and as a whole I would consider it good but not reach great. It had a great ending and I loved how it explored the characters and themes, but too many unexplained plot and world elements held it back. Regardless, I can't wait to see where the story is explored from here.
Final Score: 8.2 / 10