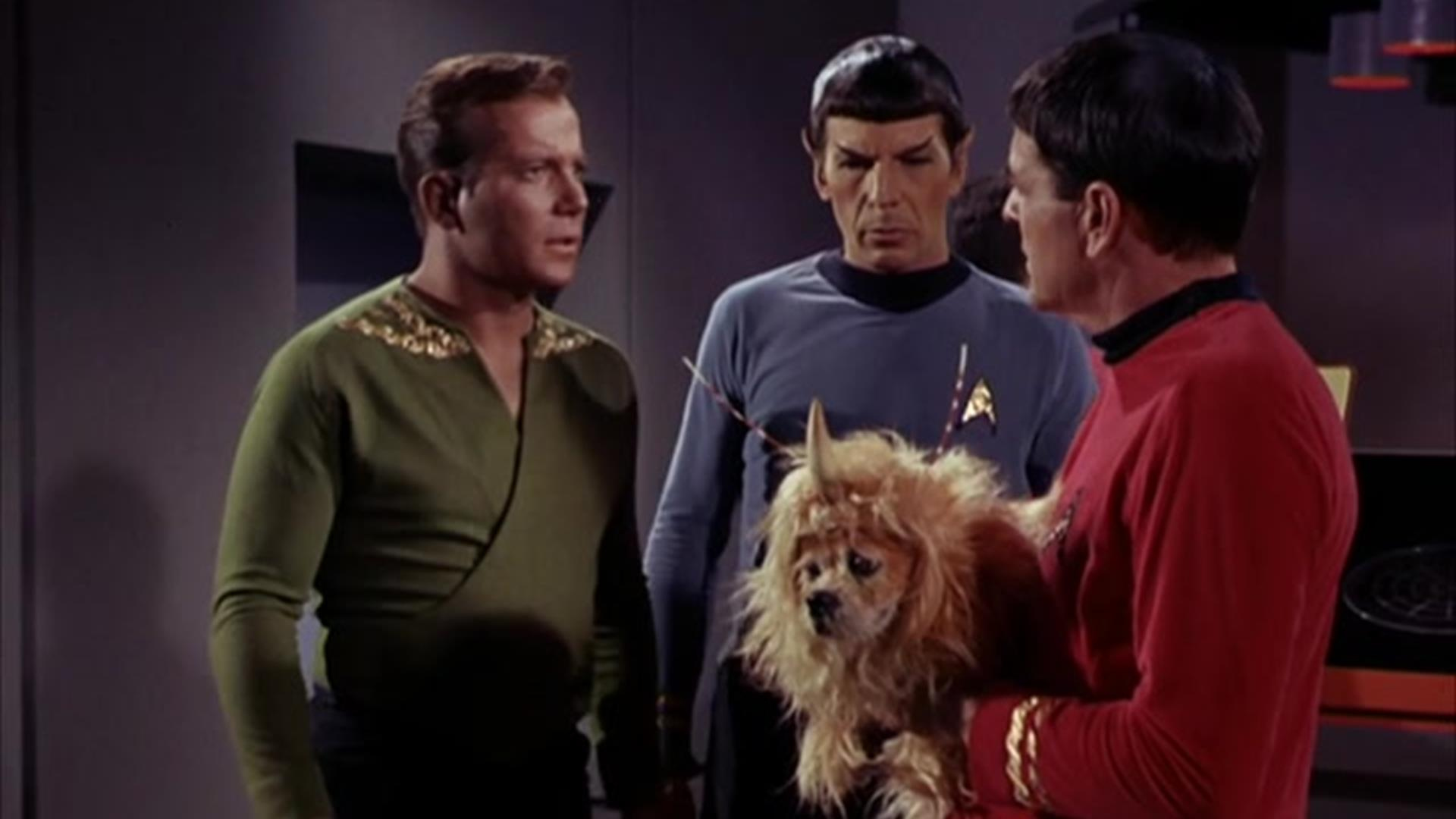 "The Enemy Within" is a good thriller episode of "The Original Series." This series explores identity in a fascinating way and gives us a good ticking clock for the tension. The episode also has some major problematic elements that I'll be getting into below. I'm going to give a trigger warning as well for what happens in the episode.
The episode was directed by Leo Penn and written by Richard Matheson.
The story follows the problem of a transporter malfunction that separates Kirk into a good and evil version, neither who can live without the other. The crew must stop his doppelganger and save Sulu and the archaeologists trapped on the planet below.
SPOILERS ahead
The Pros:
The Premise – The premise of a Captain forced to deal with both sides of himself and have the ticking clock of saving his crew is such a great premise for creating tension. The stakes are immediately apparent and gives a chance to explore human nature and identity.
Scotty – Scotty is engineer and transporter chief and spends most of the episode trying to solve the problem of the separated Kirk. In the end he does find a technical solution and they are able to make Kirk whole again and rescue the crew.
Sulu and the Trapped Crew – Sulu is on the planet and we see him holding onto hope as the situation on the planet continues to get worse as the temperature drops. I loved how he was still able to joke and was looking out for those around him. We got to see him problem solve as well as at one point he warms a rock with his phaser which helps give himself and the archaeologists more time.
Exploration of Identity – The exploration of identity is key to the episode. Kirk has to take his selfish side as it helps him make decisions and be decisive. Without it he is passive and in flight mode versus his evil which is permanent fight mode. It takes time for him to accept that side of himself though and it is only through Spock expressing how his intelligence is what helps him make peace between the Vulcan and Human sides of himself. The dynamic between Kirk and Spock works really well in the episode.
The Cons:
Shatner Ham – Shatner's evil side doesn't have any subtly until moments at the end where he is much more cool headed. I get Shatner was going for pure Hyde animal but it was over the top on more than one occasion. This is definitely a Shatner ham episode and it overall doesn't work. Because he is so over the top his doppelganger never fully comes off as a fully realized threat as Kirk is not superhuman, his other half is just animal crazy and not a smart animal.
Rape Apologism and Yeoman Rand – We have Spock at the end saying how the Doppelganger had "interesting" aspects to Yeoman Rand, who the doppelganger tried to rape and we have Rand makes excuses for the Captain after she was violated. I hated this so much. Within the progressive future of Gene Roddenberry you still had this crap from the era of the woman being blamed for what was done to her. The whole scene has more worry for Kirk than Rand when she comes forward. God I hated it so much.
If this episode wasn't trying to apologize for the doppleganger's attempt to rape Yeoman Rand than I would be rating this episode higher. We get some amazing exploration of Kirk's identity and a good ticking clock problem to be solved. I would recommend this episode but with a warning about how Rand is handled in the episode. She should have never had to apologize for what was done to her and I hated how even Spock seemed to make light of it in the final scenes when Kirk is whole again. She deserved so much better than her treatment in this story.
Final Score: 8 / 10 Elevated for how it explores identity. Could have been great if Rand had been respected as a person and character.