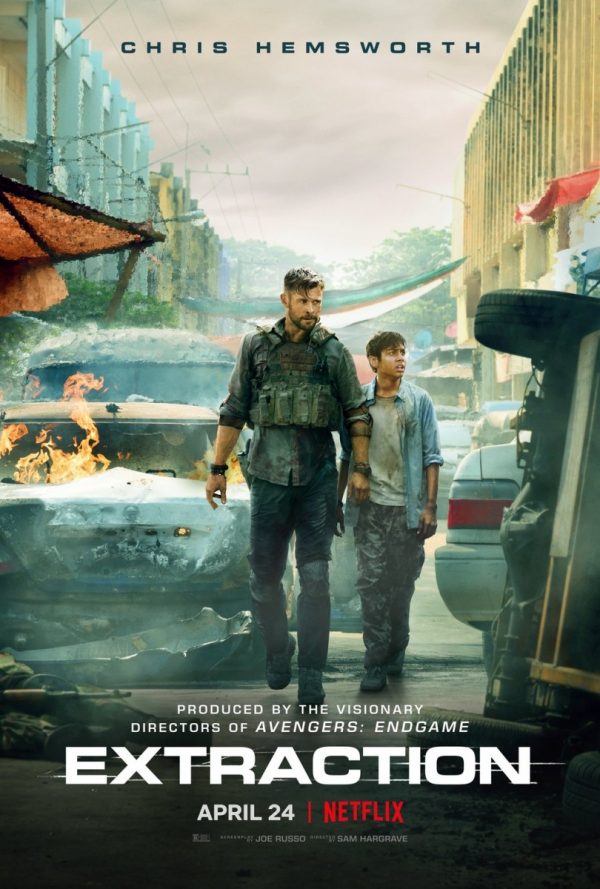 "Extraction" was a film that had potential to be good and even great. There are a lot of things that work about this movie. The performances and action are both memorable and fantastic but it is held back by the cinematography, villain and lack of development of some of the minor characters. If you are looking for a fun escape for a bit during the pandemic and enjoy action films chances are you will enjoy this though.
The film was directed by Sam Hargrave and written by Joe Russo.
The story follows Tyler Rake (Chris Hemsworth) as he works to extract Ovi Mahajan (Rudhraksh Jaiswal) son of an imprisoned Indian Drug-lord out of Dhaka Bangladesh as he is hunted by different factions within the city.
SPOILERS ahead
The Pros:
The Action – The action for this film is great. There are a lot of kinetic gun and fist fights and great use is made of close corner combats on the streets of Dhaka. We get fights between market vendors and cars and upon layers of apartment complexes. It is really well done with the final fight being a holdout over a bridge.
Betrayals – One of the strongest aspects of the film are betrayals. Ovi was only caught because his father was betrayed as he should have been protected wherever he went. Tyler Rake is betrayed by his old war buddy Gaspar, played by Dave Harbour who has given up on any higher ideals beyond survival. These betrayals add tension to the film as the city is under siege from the Bangladeshi drug lord Amir Asif who had initially kidnapped Ovi and is using all his power to get him back and keep Tyler trapped in the city.
Saju Rav – Saju Rav is Ovi's father's enforcer and gives easily one of the best performances and has one of the best arcs in the film. He is doing all he can to protect Ovi as his own family has been threatened by Ovi's father and if he fails they'll be killed. He and Tyler are evenly matched and as Tyler shares his own trauma you see how their stories of family motivating them mirror each other. Randeep Hooda does a fantastic job.
Tyler Rake – Hemsworth brings a lot of depth to what would could easily be a blank slate action hero. Thankfully this is not the case as he opens up to Ovi about the loss of his own child and when see why he is a broken character whose team hopes he can keep it together. It is this empathy that he shares that further humanizes him beyond the fact that when we are first introduced to him he is on a bridge badly injured and fighting for his life. Suffice to say, I look forward to "Thor: Love and Thunder" as Hemsworth continues to shine as an action star.
The Cons:
The Cinematography – The cinematography looks like a Michael Bay film and I hate that style of filming. What I mean by the entire film has a sickly yellow sunset sheen to the entire thing and everything feel just out of focus. If a film looks bad the other cons are brought out even further as presentation should catch your eye but in a way that complements the scene, not hurt it.
Lack of Development of the Indian Members of the Team – Khan is the really cool women in charge of the Indian special forces trying to get Ovi out of Bangladesh and besides her worrying about Tyler and going in to rescue him on the bridge I know nothing about her or her motivations. This applies to the rest of the team members too. If even the "Mission Impossible" Franchise can get this write there is no reason that they could have gotten development given we spent way more time with the villain and it did nothing for the script.
The Villain – The Villain Amir Asif is not threatening and not even complex. This is a character who is a controlling bastard with nothing more to him. He is eventually killed by Khan at the end and it felt like an afterthought, which is about how much development he got in this film.
Films that don't reach good or great is pretty common among the Netflix originals but I'm grateful they are getting made. The potential in these stories give the directors, writers and Netflix the chance to learn and make something better. I wish this film had better taken advantage of where it takes place and developed Khan and her team as they had so much potential. I wish this film had been a collaboration with Bangladeshi or Indian cinema (having a Bangladeshi or Indian writer or director for instance). That I think would have solved the issue of the areas that are underdeveloped (the supporting cast) or not developed at all (the villain). Still, if you are looking for an enjoyable action film, this is a fun escape.
Final Score: 7.5 / 10