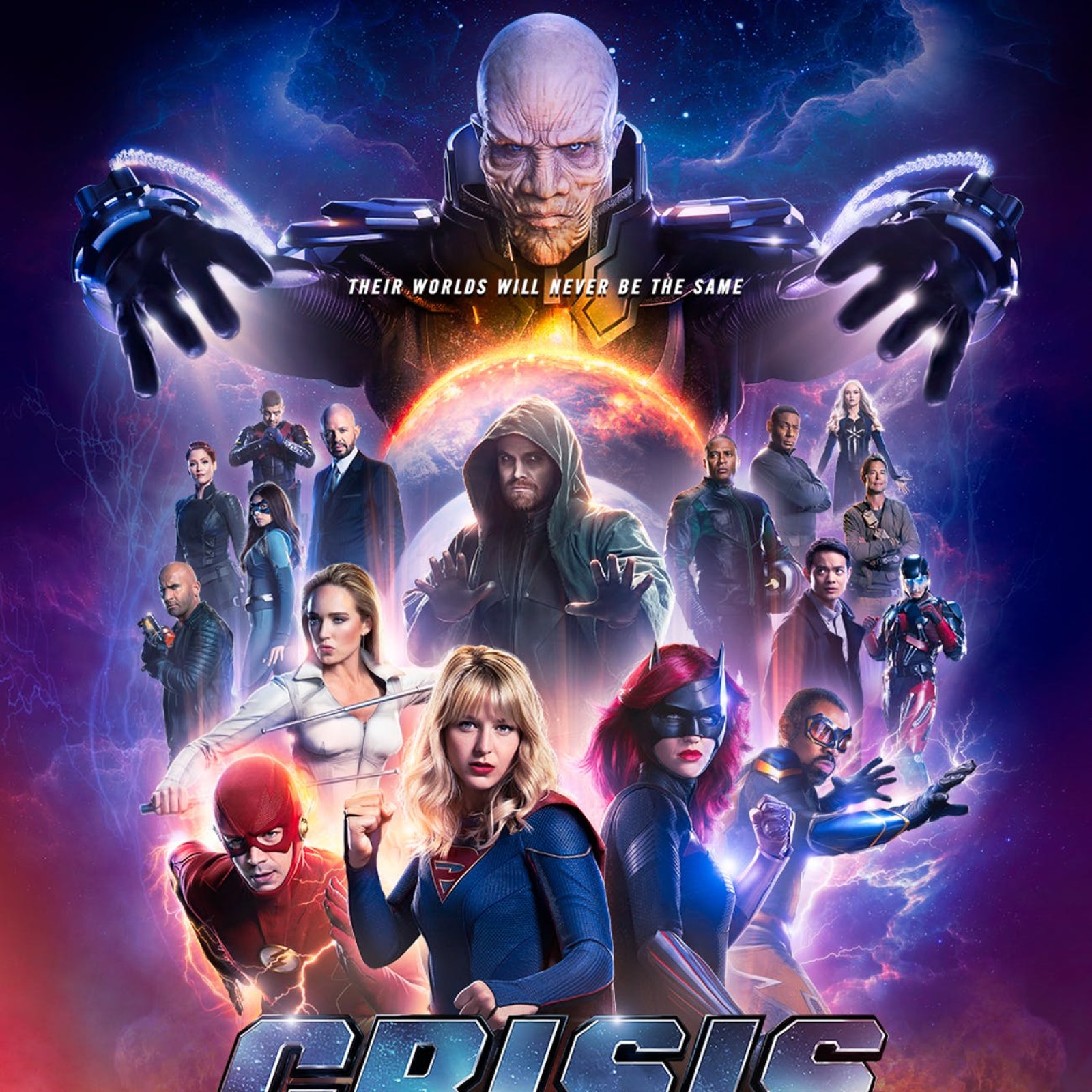 Writing my experience of the Arrowverse (DC's CW Shows) is an experience of itself. I haven't returned to his world until "Zack Snyder's Justice League" and I appreciate what this universe did with that. What does it mean to return to a creative inspired world you left but still appreciate? I don't know but his was my experience of it. This worked for me and I only finished the 1st season of "Arrow," and never watched "Batwoman" with some seasons watched for the rest but eventually tapped out because the CW did get too predictable in their writing. This story ws the 6th Crossover Event and it is the story that changes everything. So coming back, this worked and I appreciated the story being told here. This was a story told in 5 parts and presentation was one of the cons which is a shame as I appreciate the overall story being told. Honestly, the comic "Crisis on Infinite Earths" it draws inspiration from isn't nearly as strong as the story we are given here as this story is much more coherent and less of a mess.
The story involves the heroes from the many Earth of the multiverse uniting under the Monitor as they seek to stave off the Anti-Monitor from destroying all realities.
SPOILERS ahead
The Pros:
The Multiverse – One thing I appreciate about the CW DC Arrowverse was it embracing the multiverse. Out of this we get introduced to so many amazing versions of characters and in the reality of the multiverse it leaves room for multiple canons. The Justice League films I've reviewed prior can exist in this universe and we get verification at least one of them does. This is such a cool concept and it is the basis of the story here as it's destruction is what brings the heroes to action. This is confirmed when CW DC Barry Allen runs into the Snyderverse version of the character.
References and Superman v Superman – We get a lot of references in this. We have the Adam West Batman's Robin played by the actor Burt Ward on Earth-66. We get Alexander Knox from Earth-89 and the Burtonverse Batman we have the Ray from one of the CW's animated shows show up in live action and multiple Supermen. We get Smallville's Clark Kent who gave up his powers to start a family, "Superman Returns" Superman who is a continuation of Christopher Reeve's Superman and joins the heroes and he fights the CW Superman! These were some of the strongest references and we also get Kevin Conroy (the voice of "Batman" in Bruce Timm's shows) as a dark Batman who has killed all his villains and even Superman. Each of these characters exist as a reference and world but are more than that too in how they advance the plot. We also get Lucifer from the show "Lucifer" who makes a deal with Constantine as our heroes are attempting to bring back their dead friend.
The Paragons – We learn as the story progresses and Earths we know are destroyed that only 7 Paragons can stop the Anti-Monitor. These Paragons are Hope, Destiny, Truth, Courage, Love, Honor and Humanity. These roles are of course taken up by our heroes and also in a twist, a villain.
Kate Kane / Batwoman – I haven't watched "Batwoman" but at least in this story Ruby Rose did a good job portraying a broken character driven by vengeance and distrustful of everyone. What I liked most about her character in this story is when we see her friendship with Supergirl as Supergirl's mother dies in the Crisis and Batwoman is the one who is there for her as so much of what has defined her is the trauma of loss. For this reason it made sense that she ended up being the Paragon of Courage.
Sara Lance / White Canary – Sara Lance is the Paragon of Destiny as she is the Captain of Time Travel due to her being the captain of the Waverider. Her arc is attempting to bring back Arrow after he is killed in the first episode. She is the one pushing to find a working Lazarus Pit (What Arrow had used to bring her back when she died) and with Constantine's help they find it and use it. This eventually leads to them entering the afterlife and recovering Arrow's soul so he can become the Specter. She also is there for Supergirl too as the world of Arrow like Gotham has a lot more loss and trauma in it.
Lex Luthor – Jon Cryer's Lex Luthor is the best live action Lex Luthor. The only one who beats him is the Bruce Timm animated Lex Luthor voiced by Clancy Brown. Why do I say this? This Lex is smart and after the Monitor brought him back to life he went after Superman in all realities and rewrote "The Book of Destiny" to become the Paragon of Truth. This Lex is smart, charismatic, clever and wins in the end as on Earth Prime he is now President and in charge of the heroes. It is a great arc and Cryer clearly had so much fun doing it.
Ryan Choi – Osric Chau is such a great actor. I liked him as Kevin from "Supernatural" and here seeing him as the reluctant hero works really well. He is the Paragon of Humanity and he is that. He is the reason our heroes fight and shows that humanity can fight back too. His core desire to protect his family and he does that the point where it looks like our heroes have lost he is still working to fix things. I hope we see him again.
Jefferson Pierce / Black Lightning – Jefferson Pierce isn't a Paragon but he like the CW Superman is key to the victory over the Anti-Monitor. In this story he has to process the loss of his world as he is the only survivor and come to team up with strangers to save what worlds are rest. I loved "Black Lightning" season 1 and have to watch season 2 still but seeing Cress Williams in action again and part of the Justice League made me happy. The character is fantastic and seeing his friendship form with the team is well done.
Superman and Lois – Superman and Lois from the CW DC Arrowverse now have their own show! In this story they just had their first kid and their mission is to find the Superman who has experienced the most loss. In that they find the Christopher Reeve era Superman played by the Atom's actor Brandon Routh, as he played him in "Superman Returns." I really liked their dynamic and how after Lex mind controls the Routh Superman to fight the CW Superman it is Iris and Lois who help the Routh Superman get control of himself once more. They have a great dynamic and work together as partners…which is honestly how the duo should be.
Kara Danvers / Supergirl – Melissa Benoist continues to be one of the strongest parts of the Arrowverse. In this she loses her mother in the Crisis and her arc involves processing that loss as she works with the other heroes to save as many people and worlds as possible. Her arc is finding hope again as she is the Paragon of Hope. I really enjoyed her arc and honestly think her team with James Olsen, Brainiac, Alex Danvers, Dreamer and Martian Manhunter are my favorite team. Next would probably "Legends of Tomorrow" and after the team on "The Flash." This team is first to face the crisis in the 5 episode arc and it is great seeing Kara and them in action.
Barry Allen / The Flash – Grant Gustin's flash is iconic and his arc here is good, though it is one we have seen before. He wants to die so that Oliver Queen doesn't have to die. This death wish he has is stopped by an older Flash who looks like his dad and he finds a reason to live again as he connects with Black Lightning over everything Jefferson lost. He is the heart of the team and is the one who makes the Justice League Table with an empty chair for Arrow.
Oliver Queen / Arrow – Arrow dies in the first episode and after that it is his daughter and friends trying to bring him back. In the end he is kind of brought back as a new being called the Specter who is the one to finally defeat the Anti-Monitor for good. It was a solid arc and as someone who never got into "Arrow" I liked how Oliver Queen's arc ended and that he had time to say good-bye to his daughter and friends. Even if I never liked his show I appreciate that it started it all and made the rest possible. Him becoming a DC deity make sense because of it.
J'onn J'onzz / Martian Manhunter – Martian Manhunter is one of my favorite characters and the CW DC version played by David Harewood is amazing in the role. In this story he is the one tasked with saving as many people as possible and seeing him achieve this is powerful. He is the Paragon of Honor and in that is there to remind all our heroes at different times to fight and of the larger purpose they are all a part of. It is powerfully done and I love the stories from this character.
The Formation of the Justice League – The Flash basically creates the Justice League with the Paragons and heroes as the members as we see them meet in a warehouse as they are the only ones who know that Lex Luthor rewrote time to become President and a Paragon. It is cool seeing them all together and I love the team of the heroes I've listed above. The CW built something great and I hope we can see their version of the Justice League in action beyond crossover events.
Okay:
The Minor Characters – This 5 part story had to do a lot so many of the minor characters don't get the development they really deserve. I felt Diggle, Alex Danvers, Iris and Brainy did but characters like Atom, Dreamer, Nash Wells and Killer Frost were mostly just around to help or help fight and we didn't get to see how they were dealing with the crisis emotionally. This show had to do a lot so I'm not calling this a con as to get those scenes the story would have likely been much longer.
The Monitors – We get to see how the Monitor created the Anti-Monitor in a science experiment and after our heroes fight the Anti-Monitor at the beginning of time and on Earth-Prime. The Monitors could have been developed more as we don't really get why the Anti-Monitor wants to destroy reality. Like the characters in the comics, these guys just kind of exist and react.
The Cons:
Navigating the Crossover – This was a trip to try and find all the episodes. Netflix has most of the Arrowverse shows but I had to find "Batwoman" on HBO Max. Basically it took two streaming services for me to watch all 5 episodes. My hope is that the CW will make these episodes readily available especially since it looks like they want to set up their own Justice League show potentially now that all their heroes are on the same Earth.
Was Nostalgia the Surviving Factor? – The writing for this crossover is CW writing so not great so I'm wondering if what made the experience so amazing for me was nostalgia given I knew these characters and had watched most of their shows. I feel like someone going into this without the other shows as context would be confused just like when I read the original comic, so I'm putting it as a con to the story.
This was a great and flawed story that I enjoyed so much. Events and stories like this work because of all the work the writers and DC put into the characters. The foundation was there and was strong enough to pull an event like this and my hope is that we see this team or a version of it in the future. This is a great version of the Justice League and I want to see the stories they can tell together.
Final Score: 9.1 / 10 Solidly great and flawed.