With "Gotham" now at an end, I was thinking at how I best wanted to explore my thoughts on the series. First, I think it is a solid show well worth your time if you are a Batman fan, though it's flaws kept it from being great. One thing that kept it good, even with the flaws was how memorable so many of the characters were. I'm a huge fan of Batman and his rogues gallery and this series brought some amazing interpretations of his allies and rogues to the screen. "Gotham" is a show that tells the story of Commissioner Gordon and Bruce Wayne before Bruce Wayne becomes Batman. It is here we see one version of how his enemies came to be and what motivates Gordon and defines the city of Gotham. The series was created by Bruno Heller, and the fact that this list exists shows that at the end of the day, I did like this show.
The show wasn't always the best, there were a few times I took a break during it's run and to me the final was serviceable but nothing I'd praise. It just established what the show had been leading up to the entire time and didn't do it in a unique way. I'm avoiding details for those who haven't watched the finale yet. I want to avoid Final Season spoilers as this show makes it easy to talk about the broad strokes of what worked or didn't.
For the weak characters, I wasn't the biggest fan of Bruce and Selina for a long time. They eventually became okay. Ra's al Ghul was wasted and given he is played by one of my favorite actors (Alexander Siddig) I held that against the show. The Al Ghul's in general were wasted as was the League of Shadows. They were supposed to be this apocalyptic force but they never did much to the heroes of the story in big picture scheme of the show. For the few who did do something they almost always end up dead or useless by the end of their arcs. The gangsters like Carmine and Sofia Falcone stayed compelling during their runs but they also didn't have the unique feel of the characters I'm going to give an honorary mentions too. Same goes for Theo / Azrael and his sister Tabitha / Tigress. They were interesting but weren't fascinating enough for an honorary mention.
For my honorary mentions. Those go to Barbara and Jim Gordon, Harvey Bullock and Lee Thompkins to start. These were are complicated characters who often times fell on the side of the good. Also honorary mentions to Scarecrow and the Mad Hatter for being fascinating villains whose twisted mentality added to the show. None of these folks made the list but were a joy to watch and what kept the show interesting when my favorite characters weren't getting exciting moments. Fish Mooney was also great and I enjoyed what they did with her over her run on the show. Zsasz also deserves a mention too. Whether he was working for a crime boss or on his own, he always had fun and was threatening in any situation they put him in.
How without further ado, here are my Top 5 Characters on "Gotham.":
5th Place – Alfred Pennyworth
Alfred is a character I wish we had gotten more time to know. I'm not the only one apparently since he is getting his own show in Fox called "Pennyworth." This goes to show just how powerful Sean Pertwee's performance was. Pertwee gave a hardness and empathy that I have rarely seen in how Alfred is written or potrayed on film. This was a man who was taking care of Bruce and fighting rogues throughout the entire season. Sometimes it would break him physically or emotionally, but he always came back. He had the compassion that Jim sometimes lost and he'd been through so much more with his time in the Special Forces of Great Britain. He also wasn't a doormat for Bruce, when Bruce was a selfish teenager, he left. He left Bruce sort out himself but was always there to help, when Bruce was ready. The little scenes we get related to that past crystallize this Alfred as a wonderfully compelling badass. This Alfred understood the choice when Bruce was going vigilante, and even though he questioned he still supported him in the end. Some of the best scenes in this entire show came from Pertwee and I'm curious what "Pennyworth" is going to bring to the Lore of this show and the compelling character of Alfred Pennyworth.
4th Place – Jerome and Jeremiah Valeska / The Jokers
"Gotham" took an approach to "The Joker" I haven't seen before. For the character two brothers played by the same actor inhabited the role. We got Jerome Valeska's origin in Season 1 with Jim Gordon and he was one of the main antagonists until he made his brother Jerome crazy later. Each them inhabits parts of the Joker lore. Jerome is more "New 52" (who had his face taken off and sewed back on) and is insanity who acted more on instinct and big events while his brother Jeremiah was more of the thinker. His brother Jeremiah thought big and is the one who we end up following until the end. This Joke has a a friendship with Bruce before Jerome drives him crazy and this gives depth to the craziness that comes later. As you can see I could not choose between the two and as they are both played by Cameron Monaghan. I feel that they deserve the tie. Each brings a different part of the lore to this character that is so essential to Batman's lore. I also thought that the writer's could have gone deeper, which is why neither of them are further up on the list. Cameron's acting is great but at times they didn't know what to do with this character and he rarely had season running arcs.
3rd Place – Edward Nygma / The Riddler
Edward Nygma was a character I hated initially. He was all the aspects of the toxic creep and was presented as potentially redeemable for the longest time. It took him going full "Riddler" that really changed my perspective on him. It was in his role as the manipulator who wanted to make a name from it that made him compelling. "The Riddler" and Nygma contrast and them agreeing on being bad and devoting themselves to it is what made him a great villain. He had to go through Arkham to get there but when he came out it was his relationship with Penguin that added complexity, especially as his old toxic evil habits came back again. Cory Michael Smith brought so much nuance to this role and dual personalities that exist between Nygma and "The Riddler." Even given this dichotomy though, he is always the villain and never does anything that doesn't logically serve his own ends, but he will put his neck out for others and take risks for that core goal. We see this with Lee Thompkins and even Penguin a few brief times. His frenemy relationship with Penguin was one of my favorite things and whenever they found a working relationship, things were gold as "The Riddler" was the strategist while Penguin was willing to ruthlessly fight and kill for anything he desired. They were a dangerous duo and it was out of that relationship that "The Riddler" became one of my favorite characters.
2nd Place – Doctor Hugo Strange
B.D. Wong's version of Doctor Hugo Strange is the best version of this character I have seen thus far. The first time I appreciated Hugo Strange as a character was Gotham City as he was a manipulator pulling on the strings and winning through most of the story. He manages to trap Bruce Wayne in Arkham City in the game, which is a huge feat in and of itself. It was making him a minion in that story, which was the problem. Here is is often times serving people, but he always has a larger agenda at play or at least some level of survival to be himself beyond another's aims. Throughout the entire series Strange was always one step ahead of foes and I can't think of a time where he truly lost. Whomever was around would never kill him because he was far to useful and he'd use that to eventually outdo them or escape. This is the character who out of the 5 here has the least connection to Bruce Wayne, which makes me curious about what his relationship will be later to Batman, later in the lore post "Gotham." "Regardless, "Gotham" is worth watching if only for the Doctor Hugo Strange episodes and B.D. Wong's masterful performance. He brings in the insane mad scientist who has a familial bond with his creations and resurrections, as well as a ruthlessness of someone who in the end is doing everything to some greater unknown end.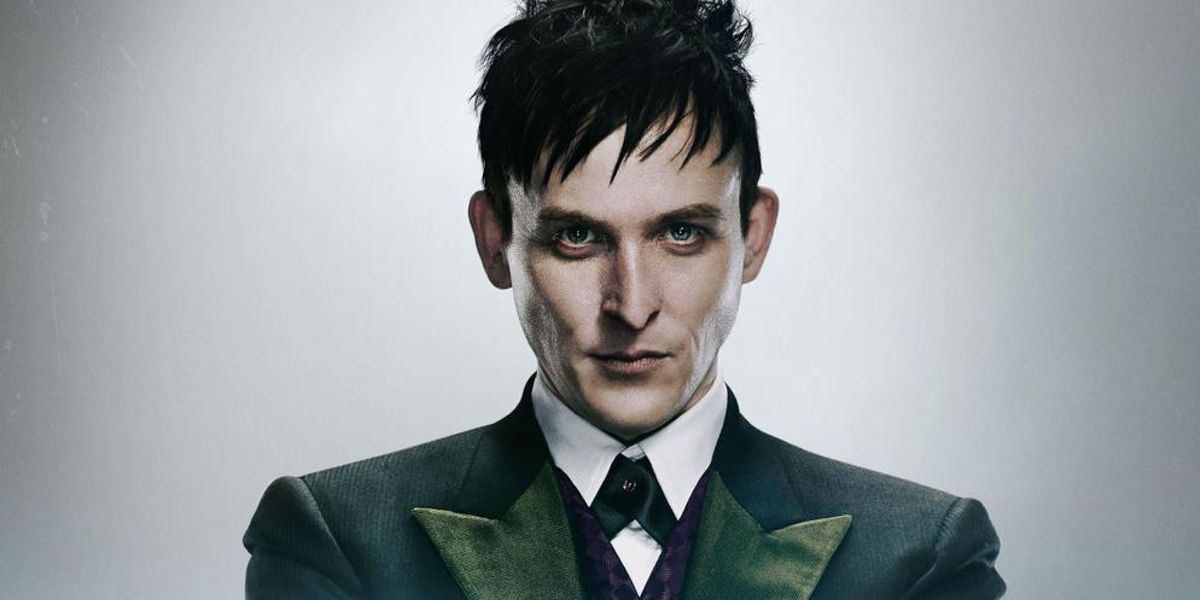 1st Place – Oswald Cobblepot / The Penguin
Robin Lord Taylor truly created the best version of "The Penguin" I have seen in any of the DC Lore. This is a Penguin who has been Mayor, been through Arkham, Blackgate and risen and fallen multiple times. Even with the rise and fall of this character, with those rises and falls over seasons came to define the best of "Gotham" for me. In this show we get to learn about Penguin's father born of money who he ended up re-establishing a relationship with, only for his step-family to kill his father and further drive him to madness. This combined with betrayals throughout his many rises lead to Penguin becoming paranoid. This paranoia became one his defining traits along with his selfish petulant nature. How did this end up being appealing? Because those aspects of the character are always there but oftentimes he would choose courage or take a risk with an enemy and make them an ally. He does this with Ed after Ed tries to kill him and easily found compromises with the Mob and gangs when he wasn't taking them over. For how obvious Cobblepot's flaws are he knew how to use them. This is why he is my favorite character. Along with him being smart enough to know his foes, Robin Lord Taylor granted this character limited moments of empathy and sorrow that gave depth to the character that I have not seen in any show or movie for Penguin, nor read in any comic. This is why he is 1st Place on my Top 5 Character of "Gotham."
For any fan of DC Comics this is a show worth checking out. I'd put it far above "Batman Forever" and "Batman and Robin." There are better properties like Burton and Nolan, but this is an example of good adaptation. This series is better than "The New 52" animated Batman films that I reviewed years ago aren't nearly as good at making their heroes as compelling or deep and their rogues are forgettable. This series is in no way perfect. Characters are brought back to life, plot lines are abandoned and sometimes there are arcs that only exist for the sake of love triangle dramas. Some of these choices worked and some didn't, but at the end of the day I stuck around for the characters. These are the five characters who made the show worth watching in the end, and the reason I'd recommend this show to any Batman fan.