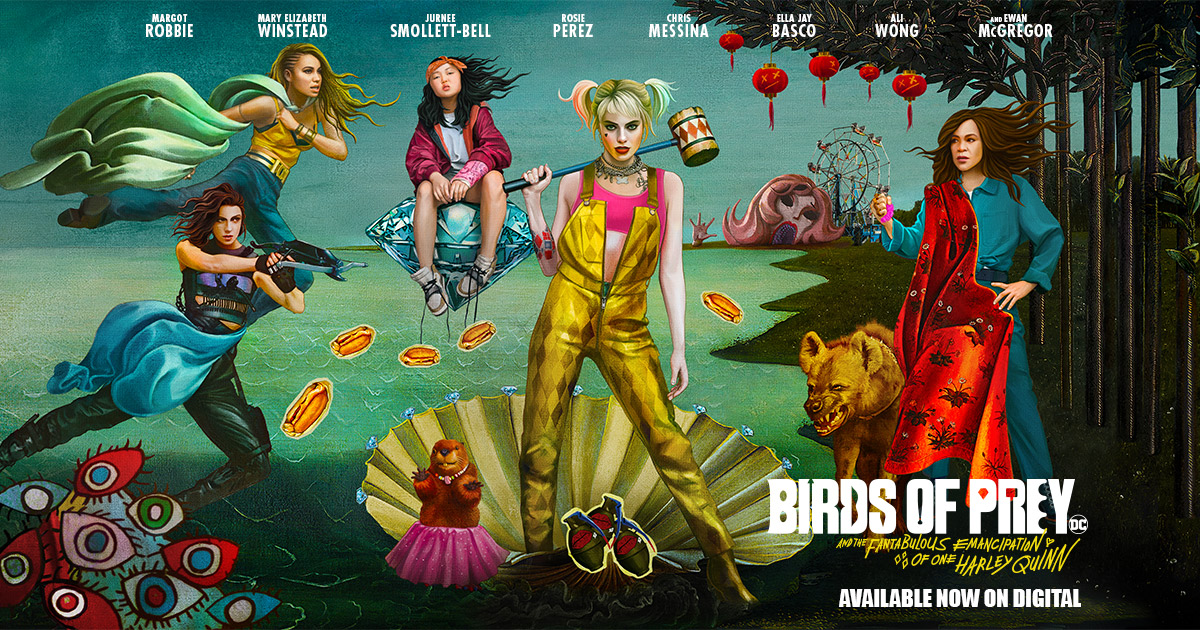 "Harley Quinn: Birds of Prey" also known as "Birds of Prey (and the Fantabulous Emancipation of One Harley Quinn)" is a really enjoyable film. This is a film with Guy Ritchie style crime thriller action mixed with the crazy you'd see in a "Deadpool" film. The biggest flaws in the film can be found in the script and an interpretation of a certain character but the rest of the film stands as one of the stronger DCEU films.
The film was directed by Cathy Yan and written by Christina Hodson.
The story follows Harley Quinn after her breakup with the Joker as GCPD and Black Mask target her. She soon finds herself pulled into a larger plot as others vie against Black Mask and seek a stolen diamond.
SPOILERS ahead
The Pros:
Cinematography – The cinematography in this film is beautiful. We see the film through the eyes of Harley Quinn and her world is full of color. This is literally illustrated when people are targeting her and she gives them names, draws on the screen and lists their grievance against her. This cinematography is if "Suicide Squad" had been done right.
Action – The action is one of the most enjoyable aspects of this film and makes up for some of the weaker writing elements in the script. We have a diversity of areas and weapons that people fight with from a chase through a crowded market, a standoff in a funhouse with different floors connected by slides and shootouts in a few locations. All of it feels organic, raw and insane. There is a reason I compared it to an early Guy Ritchie film as both the stolen diamond and the action feel like something out of "Snatch" or "Lock, Stock and Two Smoking Barrels." It is truly amazing action.
Birds of Prey – One of the common criticism's I've heard of this film is no one is really developed outside of Harley Quinn. I disagree. This film works because of the ensemble cast working with Harley Quinn and all of them get developed, I just think one of the characters wasn't needed or should have been reinterpreted differently. I'll get into that after why I think the different Birds of Prey work as characters.
Dina Lance / Black Canary – Black Canary is a lounge singer in Black Mask's club who slowly stops playing it safe when she starts to see more of how Black Mask treats those around her. It is sparked by saving Harley from a kidnapping and increases from there as she contacts Montaya about the jewel that Black Mask is after and is part of the vigilante Birds of Prey by the end. She fears being a meta-human and when she stands with the others her last act in the fight is doing the Canary scream which makes possible the rescue of the girl Cassandra Cain who has the diamond.
Renee Montoya – Rosie Perez plays an older alcoholic Renee Montoya and she does a fantastic job. Her Montoya was cheated out of a promotion by her partner and is still driven to bring justice against characters like Black Mask that GCPD refuses to do. This logically leads to her leaving the force and joining the Birds of Prey after Black Mask is defeated (and her partner takes the credit for the defeat). It is a great arc and fits the liberation theme of the film.
Helena Burtinelli / Huntress – Mary Elizabeth Winstead's version of Huntress is pretty awkward and I love it. She has trouble socializing with other as she was raised by assassins after her family was killed and her opening up to the others hunting Black Mask is her arc. She goes from being alone to having a community of vigilantes in the Birds of Prey after she completes her kill list. I hope we see more of her, though I hope it isn't with the awful mask she is wearing in one of the final scenes.
Harley Quinn – Harley Quinn is the driving action of the film and this clearly Margot Robbie's passion project, and for the most part it works. Harley is the chaos that upends the lives of Black Canary and Montaya and forces them to take action. This is all sparked after she moves on from the Joker after their breakup by blowing up Ace Chemicals. This film is from her perspective so we get time jumps, colors and commentary. This all worked and I'm really curious to see how her character further grows in "Suicide Squad 2." Margot Robbie truly inhabits this version of the character.
Roman Sionis / Black Mask – Ewan McGregor is a creepy, scary and compelling villain. We have a club owner who has been taking over Gotham and sees all as property of him. He's very Immortan Joe in that way. He's unhinged and punishes those who go against him by cutting off their faces. Like in the comics he also collects masks from around the world and has the Black Mask as his own. This version of the character seems to be in a relationship with the serial killer ZsasZ and it works. Zsasz calms him down and is the only one he lets in his space but also feeds his violent nature as they are both killers. Black Mask is constantly gas-lighting those around him and it is fighting against that abuse that is the ultimate arc for many characters in the film.
Liberation Over Abuse – The theme of liberation is key to the film, especially against abusive men like The Joker and Black Mask. We see this as Black Canary comes to finally stand up against her boss and in Montaya leaving GCPD as every case she wins her partner steals from her and of course Harley breaking up with the Joker and blowing up Ace Chemicals and finding her own identity beyond the Joker. This liberation is powerful and I loved that this was the core theme of the film.
The Cons:
Cassandra Cain – This version of Cassandra Cain is a pick pocket faster kid, and it doesn't work. First, I didn't believe Harley's relationship with her and it just felt awkward in the same way with Deadpool and Russell. I wish one of the Birds of Prey like Black Canary could have been the one with the Jewel as it would have made the stakes more personal. Cassandra Cain is taken from place to place and protected or captured and she could have just been the diamond and nothing would have changed. This is a shame as the comic book Cassandra Cain is pretty awesome and I hope we can see her someday on screen.
Final Scenes After Final Fight – The final scenes has the formation of the Birds of Prey as a vigilante group with Huntress, Montaya and Black Canary. The execution feels false as everything is way too happy and Huntress's mask is crap. She was fine without the mask and adding it just ruined the awesome scene of the Birds of Prey fighting enemies. If the last scenes were cutout and it ended with saving Cain it could have been great.
This is a film that could have been great with a better script. Changing or taking out Cassandra Cain would have brought focus to the film and changing the ending would have helped everything flow together perfectly. I had a lot of fun with this film and I'm glad that DCEU is doing it's own thing. It is that different perspective and voice that makes it stand out against the sameness that can sometimes intrude upon so many MCU films. Can't wait to see what they do with these characters next.
Final Score: 8.6 / 10 Really good and would have been great with a better script.