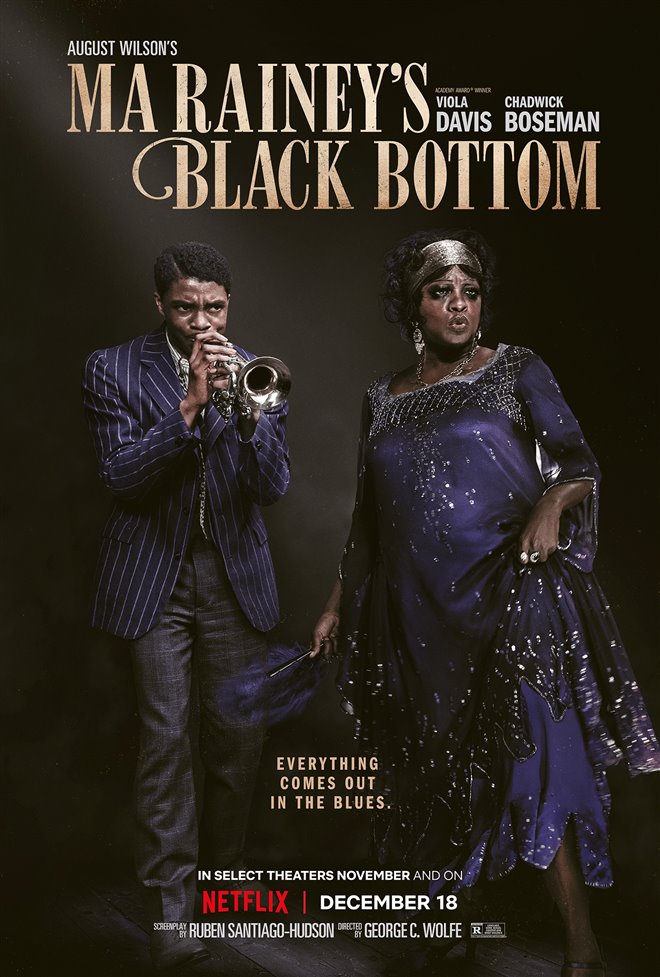 "Ma Rainey's Black Bottom" is a powerful film and was the last film that Chadwick Boseman finished before his death. He is amazing in this and I can see why he chose this project. This film tackles history, racism, exploitation and oppression and it made me want read the play it was inspired from. This is a film I'd highly recommend and my biggest issue with it as that it isn't longer as there are some arcs and characters who could have been explored deeper.
The film was directed by George C. Wolf and written by Ruben Santiago-Hudson and based off the play by August Wilson.
The story explores Ma Rainey (Viola Davis) and her band during a recording session.
SPOILERS ahead
The Pros:
The Soundtrack – Brandford Marsalis's soundtrack is fantastic. It is kinetic and you feel the life of the city and the band as we are taken from scene to scene. I am a huge blues fans and I plan to go back to this soundtrack. The music is great.
The Cinematography – The cinematography is also beautiful. The film is shot almost like a play with a lot of shots that feel like they never stop following the character or scene. This gives the locations of the film a lived in feel. There is also a dreamlike quality to it all too, especially in the use of light and framing. Tobias A. Schliessler did a fantastic job.
The Characters – The characters are the standout part of this film and honestly one of the things keeping me from rating it higher is that we don't get more monologues. The monologues give us Levee's (played amazingly by Chadwick Boseman in his final performance) pain over what was done to him and his family as a child, we get the sense of loss that characters feel and also what drives them. Viola Davis's Ma Rainey extremely stands out in this way as she holds the white executives accountable and knows how two-faced they actually are. Nearly all of them are fully realized.
An Exploration of Oppression – This film explores white supremacy and oppression through the lens of the 1920s and the music industry and it does a fantastic job of it. We see the Studio executive steal Levee's songs and Levee's backstory where white farmers raped his mom and after forced his dad to sell them their land. The film doesn't stray away from reality and it made me want to read August Wilson's play. The moments of oppression are subtle too from Ma Rainey's nephew and manager being side-eyed when they are picking her up a coco-cola at a store and more overt in the cop immediately doubting her story in a crash. This oppression and power explored through the lens of the music industry is powerful and tragic as we see where the pain the characters go through takes them.
The Cons:
Dussie Mae's Lack of Voice – Dussie Mae is Mom's girlfriend and Levee has a crush on her. Nearly every character is given a chance to monologue except her. I felt this was a disservice given she was a part of Ma Rainey's acts and therefore part of the band performance. We never get what she wants beyond material wealth, which was a shame.
More Development of Characters – Dussie Mae is the biggest example of this but Slow Drag could have also used some more development and I wanted to see more of Ma Rainey and Culter's relationship since he seemed to be her trusted go-to in the band. The film is short so I do believe further developing the characters could have been possible.
Chadwich Boseman put in an unforgettable final performance and this is a film that I highly recommend. It powerfully explores oppression and exploitation and I plan to check out August Wilson's plays and other adapted films because of this. This film is great and one I'd highly recommend. R.I.P. Chadwick Boseman.
Final Score: 9 / 10