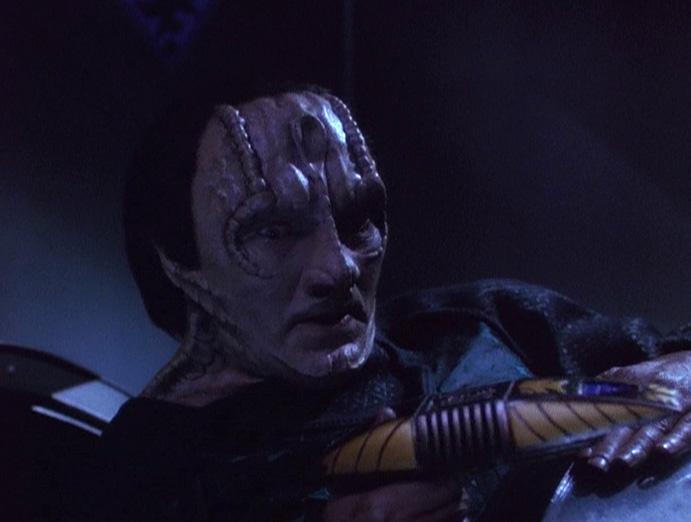 "Empok Nor" is a great episode and definitely one of my favorites in "Star Trek: Deep Space Nine." This episode has stakes, history, tension, character development and is simply a wonderful thriller episode. I'm also a bit biased in that Garak is one of my favorite characters and this episode has a lot of Garak. This is one of my favorite episodes in "Star Trek: Deep Space Nine," and I highly recommend it.
The episode was directed by Mike Vejar with teleplay by Hans Biemler and story by Bryan Fuller.
The story involves Miles O'Brien leading a squad to the abandoned Cardassian Space Station Empok Nor in order to get supplies to repair Deep Space Nine. All is not as it appears to be as their arrival wakes up two Cardassian Soldiers who were left behind.
SPOILERS ahead
The Pros:
The Premise – The premise of an abandoned station full of threats is really cool. You get the haunted house meets slasher vibes and the characters we follow are good. We have Garak to undo the traps, Nog who volunteered and Miles controlling the mission along with a few redshirts for good measure.
The Horror – The horror is really great in this episode. As said above we get the haunted house vibe with the slasher vibe as the Cardassians who wake up begin killing the Starfleet officers on the mission. Eventually Garak is infected by the same compound the other Cardassians are infected with that has made them killers and now it is him against Miles and Nog. It is really well handled and you feel how trapped our heroes are.
Nog – Nog is the eager cadet on this mission who ends up being the most prepared. He comes fully armed and sticks with the chief. This doesn't stop him from being captured by Garak when Garak goes insane, but we see how committed he is to the mission and is willing to die to save Miles and complete the mission. His courage is admirable and I was grateful that he was one of the three survivors. Aron Eisenberg truly did a fantastic job.
Garak – Garak is fascinating in this episode as he kills the enemy Cardassians but finds himself infected with the same thing that they were infected by, making him psychotic. What keeps him from simply killing Nog and Miles though is his fascination of Miles being the hero of Setlik III during the Federation-Cardassian War. He has respect for the Chief and wants to face him in combat. In the end this leads to his defeat and regret as hates the fact that he killed one of the Federation Officers when he got infected. Andrew Robinson continues to give this former Obsidian Order agent so much nuance and this episode is a great example of why he is one of m favorite characters.
Miles O'Brien – This is very much a Chief O'Brien episode and Colm Meaney does a great job carrying it. In this we see the man he's evolved into since the Cardassian-Federation War as no matter how many times Garak brings up the past, he insists he's an engineer. We see this mindset in his problem solving with both getting help from Deep Space Nine when Terok Nor loses all communication and the enemy cardassians destroy the shuttle and in how he outsmarts Garak by using the tech. he as the create a bomb. He keeps the crew focused and even though most of them die, O'Brien does complete the mission and manages to save both Garak and Nog.
The Past Lives On – Terok Nor is an abandoned Cardassian Station with soldiers left behind the kill anyone who tries to enter. The moment they activate it is like the Cardassian-Federation War all over again. This echo of the past eventually consumes Garak as the drug that made the enemy Cardassians crazy, also does the same to him. Once more Cardassians and Federation soldiers fight and die as the past war lives on in the present and with it the wounds caused by this excursion for the needed Cardassian Technology.
Okay:
The Redshirts – The Redshirts are all given base personalities but aren't developed beyond that. They also don't survive the episode as they are either killed by the Cardassians left behind, or Garak when he goes mad. This was a shame as if even one of these characters had survived we could have had a redshirt giving us more of the experience of the "Dominion War." I didn't put them as a negative as they do have personalities, but they aren't a pro as they weren't developed beyond that.
"Deep Space Nine" is one of my favorite shows and that is largely due to it tackling themes of politics, war and trauma as this episode does. This episode is perfect in tone and the stakes are consistent through the entire run. We also get some amazing Garak and Miles development. I can't wait to see how they play off each other again when I watch future episodes. This episode is a favorite and I highly recommend it to any fan of the show.
Final Score: 9.6 / 10 One of my favorite "Star Trek" episodes. If the redshirts had been developed further it would have been perfect.