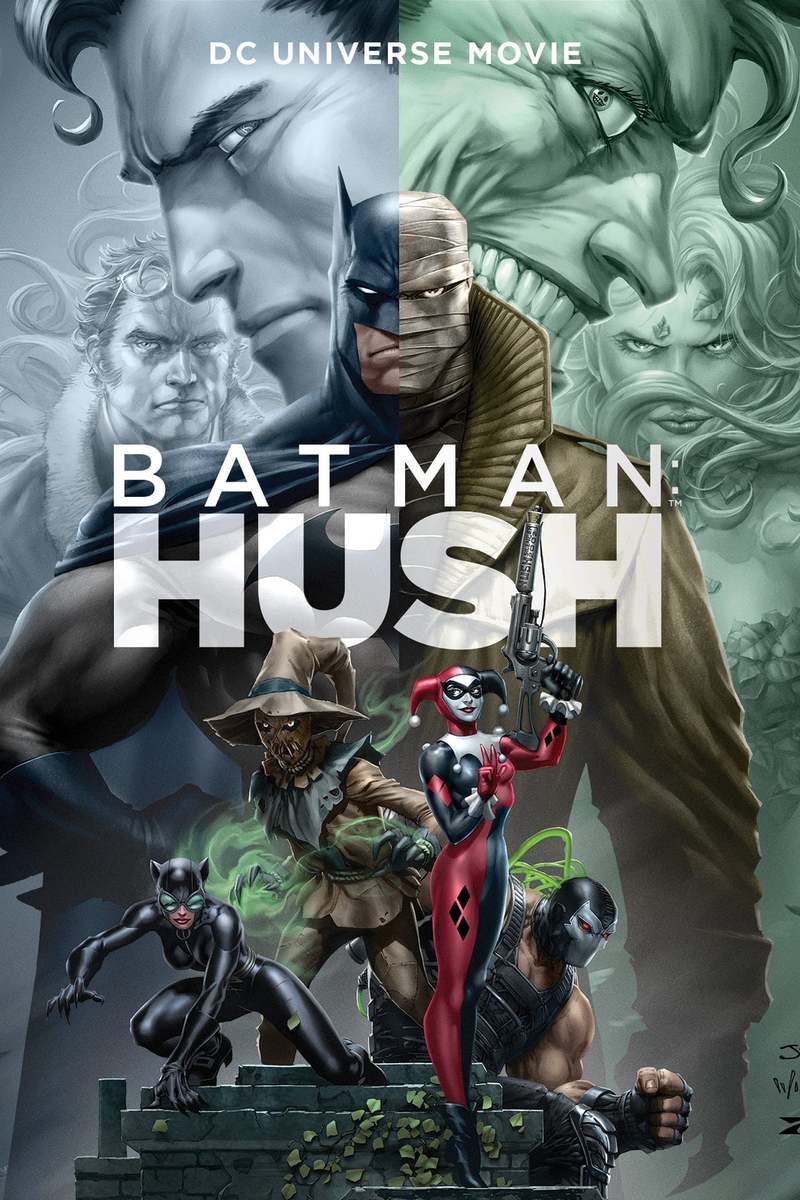 This is a film that had the potential to say so much more in adaptation, but wasn't willing to take that chance. Maybe it was because they knew kids might check this out or maybe it was just wanting to play it safe…but I appreciate the comic so much more after. This is a film that captures the base events of the comics (minus one major one) but isn't willing to go deeper. Without giving away spoilers that is all I'm going to say. If you are fan of DC animation it is worth watching for the animation and the voice actors as always do a great job, but if you read the comic I think you should skip this and save yourself the disappointment. I really enjoy DC animation and as someone who liked the comic but didn't think it was good or great. This film did nothing to improve on a great premise.
The film was directed by Justin Copeland and written by Ernie Altbacker.
The story follows Batman as he faces a new enemy named Hush, who knows all his secrets and seeks to unravel his life.
SPOILERS ahead
The Pros:
Animation – The animation flows and is beautiful…I just wish there'd been a better script. I'll get into cons below but this a very well animated film, as can be said for most DC Animated films. The action is seamless, emotion is well portrayed in facial expressions and the colors make each scene stand out.
The Bat Family Moments – There are some good moments with Dick Grayson, Damian Wayne and Barbara Gordon. In each case you see why Bruce is fighting for them and why he trusts them. They are all small moments. It is a check-in or a training, but you see how much he cares. I appreciated this and as it was here we had a bit of levity the film needed.
The Selena Kyle Romance – This romance was handled better than expected. Batman saves her from Poison Ivy's control and she saves his life at the end. In-between they date but it doesn't lead anywhere due to Batman's baggage. He does reveal his secret identity, like in the comics so I appreciated that. It made their more have more even if the film failed to grow on that. I think the film wanted this to be the focus but missed so much. We needed more with Selena or the Bat Family and their thoughts on one another. We got base happy for Bruce or distrust of Selena but nothing deeper. That was a disservice to all the characters.
Okay:
The Rogues – The rogues are underused. You have Batman and Catwoman fighting a Poison Ivy controlled Superman and Batman going to Lex Luthor and it not meaning anything. I'd say that is a theme. Thomas Elliot is used and unless you've read the comic or other sources just how important he is. Here he is an underutilized puzzle piece that leads to the function of advancing another's plot. We fight Bane, Scarecrow, Riddler, Harley Quinn, Joker and Poison Ivy but in the original where Killer Croc was the the kidnapper not Bane who sparked everything off, it meant more. The villains are here to show up. Beyond the Joker scene which is lessened because of how Thomas Elliot is used we get an empty hate scene of Batman punching him. I get he was meant to kill him here like in the comics, but everything that happens after makes this moment mean nothing. In the comic it was still horrifying but at least Batman's rage was understandable.
The Riddler – The Riddler is the big bad. He is saved in a Lazarus pit as he was dying and from it realizes that Batman is Bruce Wayne. This is true to the comics but unlike the comics where Thomas Elliot is a serial killer who functions as his hand (who is a famous surgeon so he can become Jason Todd and others due to plastic surgery). Riddler he is revealed and he falls into fire. If he lives I'm asking how as Catwoman saves Batman to stop him from saving Batman and that is why they break-up. The core of the comics was Bruce's obsession but here it is over the top. There is no nuance's to Bruce Wayne's rule and that is the ending we get.
The Cons:
The Use of Hush – In this case I'm referring to Thomas Elliot. This film uses him as another friend to use not as another sociopathic killer who wanted Bruce's life like in the comic. He is a plot device and nothing more. This is a shame as Hush is a great villain. This film does him wrong. He isn't even Elliot, in the end the Riddler is behind the bandages which makes him look silly and bald with a scar of a question mark. It is all the gritty and edgy with none of the point. Elliot in the comics was set up leading up to his rivalry with Wayne and him being used by the Riddler made sense. Making him the Riddler is just a waste.
The Point is Weaker Than the Comics – The point of the comics that I got is that is that obsession can lead to self-destruction. We see this in how Thomas Elliot kills his parents to be like Bruce Wayne, The Riddler setting up everything to destroy Bruce Wayne's life just to know knowing his identity means nothing and Bruce Wayne loses the relationships he's developed with Selena Kyle. The film does the third point and that is it. I get animation can be expensive but making Riddler Hush is stupid for multiple reasons. We never get Riddler's backstory in this for one and Elliot exists only for another person for Bruce to lose. This means nothing. There is no Hush as Jason Todd. This film made me appreciate the comic so much more. What a waste.
You really have no reason to watch this. Go watch the fights on youtube. This story could have made Thomas Elliot more complex, gone more into the Riddler, Selena Kyle or even Bruce Wayne. We got less than the comics. This movie is a waste and not worth your time. Just get the comic on comixology. You'll get a story that actually means something and not something pretty that means so much less. This is a DC animation film that isn't worth it. I'm sorry to all the voice actors and animators. Check out their better stuff. They deserved a better story.
Final Score: 6 / 10