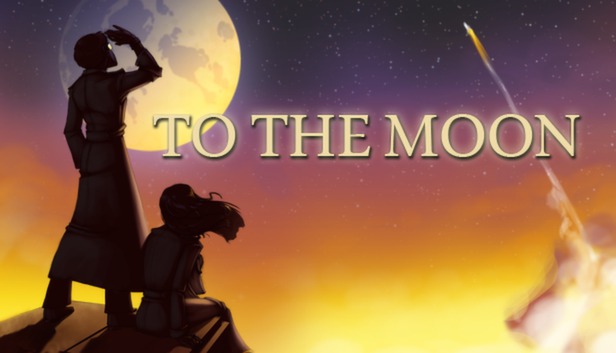 "To The Moon" is an amazing game and story. It was created by Kan Gao on the RPG Maker XP and gives us a wonderful psychological science fiction story. This is a game that I highly recommend. There is a solid mystery story and the soundtrack draws you into the conflict and world that Kan Gao created. I'll be getting into the details of what make the game work later on so I want to get the great told up front as the mystery is what drives the story. I did this game as a "Let's Play" where I played through it with one of my closest friends who introduced me to the game in the first place.
The game was created by Kan Gao and developed and published by Freebird Games.
The story follows Dr. Watts and Dr. Roselane who work for the Sigmund Corporation whose job is to fulfill dying people's last wish. The two Doctors must fulfill Johnny's wish by entering his memories and help him get to the Moon.
SPOILERS ahead
The Pros:
The Soundtrack – The soundtrack is absolutely beautiful. It is reminscent of Claude Debussy, specifically "Claire de Lune." Kan Gao and Laura Shigihara did an absolutely fantastic job on this soundtrack. There is a melancholy feel to the entire soundtrack and it blends in well with the themes of trauma and love that are explored over the course of the game.
The Gameplay – The gameplay is simple but fun. You move around as the Doctors collecting items in the real world and in Johnny's memoryscape. In his memoryscape you create items tied to memories in order to jump further back into his past and in turn create the program of the wish so that the patient's last memories will be false ones of their wish coming true. There is also variety too as there are puzzles when you activate an item that lets you jump back in the past, the search for the items themselves and even some simple combat puzzles and even Whac-A-Mole. It is quite fun and I was never bored.
The Story – The story is what drives the game and it is fantastic. Dr. Watts and Roselane have a great dynamic with Watts being a giant nerd who can be a jerk while Roselane is sentimental and acts on the fly. Johnny's backstory is compelling too as we meet his wife River and explore their relationship and eventually arrive at the moment of trauma that defined his life in his childhood. In all of this is the search for where his wish to go the moon was first born and how Watts and Roselane explore the narrative draws you in.
Dr. Watts and Dr. Roselane – Watts and Roselane have a great dynamic. Watts is a giant nerd who pretends not to be sentimental while Roselane is very sentimental but also can be harsh and by the books. In the end she is the one who takes a huge risk in order to bring about Johnny's wish once they find why in his old age he's forgotten about his original dream. Roselane was my favorite character and I loved how much her actions drive the story.
Johnny and River – Johnny and River is the main romance of the story. Johnny is the old man who is dying and we see how much of his life was spent by River and the problems they. River is on the autism spectrum (like myself) and at times they have trouble communicating with one another sometimes but the love is there until the end. They had a fascinating dynamic and in the end the program brings them together again when Roselane changes the program of their original first date. In this we see how much they cared for one another and that it was a love that neither of them was fully able to express in words.
The Moment of Trauma and Consequences – Watts and Roselane come to find that Johnny has blocked out trauma from his childhood, which keeps them from achieving his dream until he and they face it once more. The trauma is that his twin brother Joey was run over by his mother by accident. She was never able to make peace with this and always calls Johnny Joey. It is so sad and is a huge reason that he isn't able to be fully open with River. The trauma defined him.
The Ending – Roselane changes the past by saving Joey and in Johnny's last memories he joins NASA and as it turns out River does too. This happens due to their first meeting during the fair where they escape to watch the stars and moon as they don't want to be around people. It is in this first meeting they say if they ever get separated they'll meet once more on the moon. It is so sweet and I like that Johnny got to experience a life he never got to live with his brother and have a life still with River. It was perfection and blended with the soundtrack so amazingly.
If you are a fan of RPGs in the style of "Dragon Quest" but are good with a game with very little combat and simple puzzles you should check this game out. I love it and it is easily one of my favorite games. The narrative is tight, the humor is fun and how trauma and relationships are explored is done so well. I loved this game and look forward to playing the sequel. There is an animated film in development by Kan Gao, and when it comes out I will be watching it.
Final Score: 10 / 10