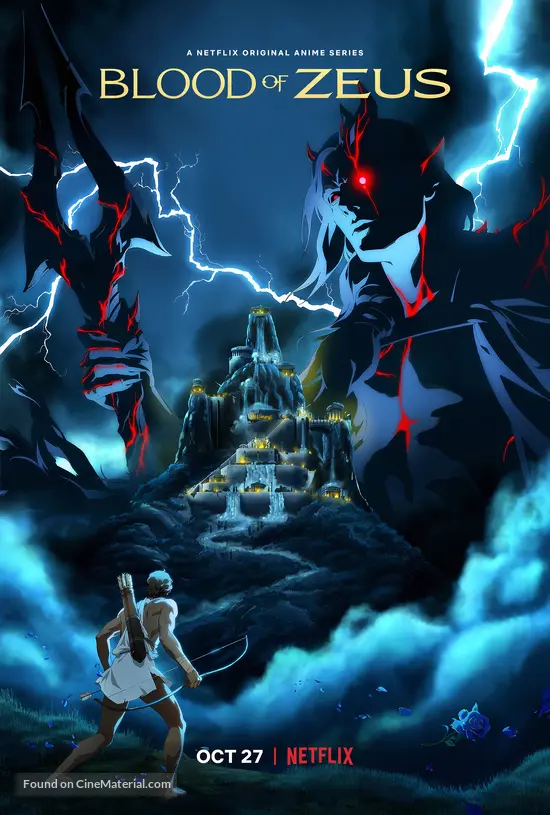 "Blood of Zeus" is a story with potential. I am a huge fan of mythology and I grew up reading the Greek myths and playing "Age of Mythology." These are stories that have so much you can do as they were an oral tradition and interpretation is the art of telling a story. Because of this I am hoping this gets a Season 2 as Season 1 did have some stilted dialogue and some flat characters but I did enjoy this 8 episode introduction to the world.
The series was created by Charley and Vlas Parlapinides.
The story follows Heron (Derek Philips), a bastard who discovers the greater origin of his birth while humanity must deal with the rise of Demons, a faction lead by Seraphim (Elias Toufexis) who were formed from the ancient Giants of old.
SPOILERS ahead
The Pros:
The Premise – The premise is great. We have the Giants as stand-ins for the Titans who Zeus and the Gods defeat but whose bodies aren't destroyed and corrupt humanity before Hera raises them in her rage against Zeus. It is a lot of fun and fits the drama and tragedy of Greek mythology.
Alexia – Alexia is an Amazon voiced by Jessica Henwick. She largely is there to drive the plot though she does have some good characterization in how she blames herself for the death of her parents. I'm curious to see where her story will be taken if the story continues.
The Giants – The giants remind me a lot of the Titans from "Attack on Titan." They are these twisted giant humanesque creatures who never speak, just destroy. As forces of nature they work really well and you see the Gods and their followers fall easily to them. They also destroy Olympus too, even if their souls are once again trapped by the end.
Hera and Zeus – There are two core dramas that drive this story and the primary one is that between Zeus and Hera as it is Zeus's cheating that leads to Hera seeking control of Olympus through bringing back the Giants. She is ruthless but you can see where she comes from and she uses her power of the ravens and air to a great degree. I liked her as the flawed antagonist and was glad she survived the Giants' betraying her.
Seraphim and Heron – The other drama is that between Seraphim and Heron. These two are brothers and Electra is their mother. Heron is son of Zeus and Seraphim is son of the King of Corinth. Both lose everything including their mother but Heron had Zeus looking after him where Seraphim had no one which lead to his consuming of the Giants to become a Demon. Eventually Seraphim is defeated by Heron and we see that Heron is one of the few he actually cares for. In the end he meets Hades, who gives him a chance at life once more for his loyalty and given he was forced to follow Hera he is once again torn in choosing his own destiny. Heron finds peace on Olympus and discovers his divinity in sacrifice by contrast.
Heron's Journey – Heron starts out resenting Zeus for not protecting his mother but comes around to respecting Zeus when Zeus starts acting like a father. From here we see him find his wit and intelligence over anger and rage and become the hero that stops the Giants, Hera and Seraphim. It is simple but a good arc.
The Cons:
The Goddesses Left Out – Ares shows up as muscle, Apollo and Hermes play a part as those accepting Heron as a bastard but we do not see Aphrodite, Demeter, Artemis or Athena have no dialogue or play any sort of role in the Civil War between the Gods. I'm sure they showed up but the Vampire Generals in "Castlevania" did more in the brief appearances they had in Season 2 (same studio did this show).
Stilted Dialogue – The dialogue is all tell and no show. So there isn't any room for interpretation. This is the biggest factor that kept the show from being good as you can only tell so much nuance.
Flat Characters – The stilted dialogue is the reason for this as we are given complex backstories, like two rogues who join Heron and Alexia and become heroes…but we don't see them ever as bad. So in the end most side characters including Electra end up being flat or plot devices.
I really want to see what "Season 2" brings. You have an entire pantheon of Gods and so many myths to draw inspiration from. It is really in all these things that this could become a great series like "Castlevania." For now, I just hope it gets renewed, as flawed as it is there is still so much potential.
7 / 10 This was enjoyable and does have potential to be good.