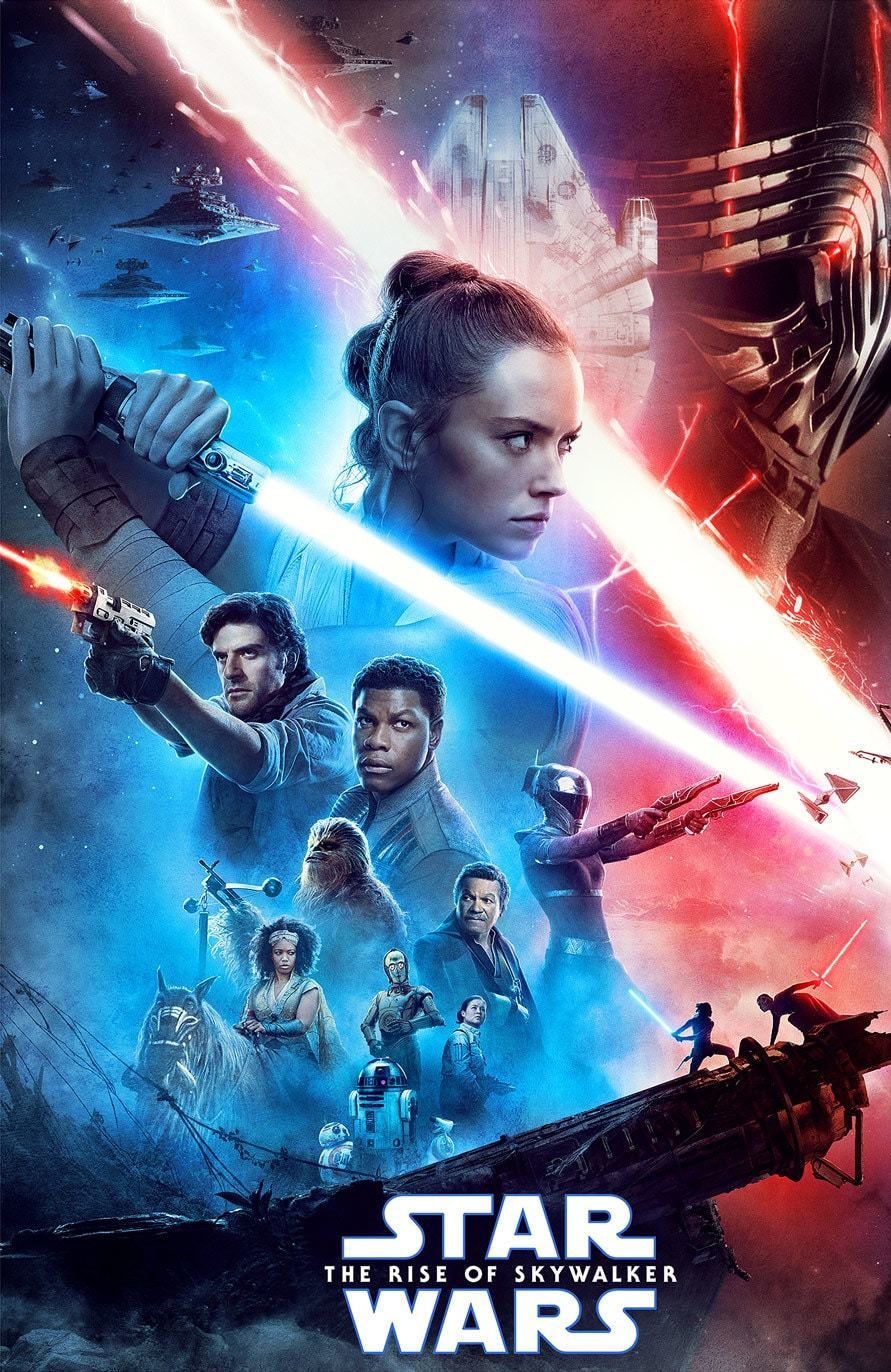 'The Rise of Skywalker" is a mess with a ton of flaws and is easily the weakest out of all the new Trilogy. I felt that the things that were strong helped elevate the mess enough to the point that it still managed to be an enjoyable film, even though I hate how derivative it is of "Return of the Jedi." A lot of my fears about Abrams return were certainly validated in this film but due to actor performances and character relationships that really made it work for me, as extremely flawed as it is.
The film was directed by J.J. Abrams who co-wrote the film along with Chris Terrio.
The story picks up a few years later with Leia training Rey as a Jedi as Kylo Ren finds Emperor Palpatine alive with his hidden fleet. From here it is a race against time as our heroes must stop Palpatine and Kylo Ren before they conquer the galaxy.
SPOILERS ahead
The Pros:
The Soundtrack – John Williams is once again showing why he heads this series. He is once against the master of his craft here. I will definitely be listening to this soundtrack again and all his work with the prior films.
The Action – The action is good but nothing stands out like the fights in the prior film. There is emotional resonance to some of the action, specifically anytime Rey and Kylo fight one another. This film is primarily action though so it had to be at least serviceable. In that I'd say it succeeds but it isn't as good as the action in "The Force Awakens" or "The Last Jedi."
The Core Characters – The core characters are what makes this film work, even though I disagreed with some of the character choices done with them. For the characters I feel like were the strongest I'll be going into more depth below as it was really these characters that made the film work enough for me in the end.
Poe – Poe takes up the leadership role that was left in the last film as we see him leading the Resistance after Leia's death. He is made more like Han Solo in this film (which annoyed me) but I liked us seeing him clash with Rey. Both are headstrong so it'd make sense they'd clash. It also got away from shipping them, which I appreciated. Oscar Issac's is of course wonderful as always.
Finn – John Boyega is one of the strongest of all the new actors and that is once again demonstrated here. Here we get hints that Finn might have the force (he senses things, especially when Rey is in trouble). I wish this could have been explored further, but I did enjoy him playing such a key role in the final battle and fully embracing his role as a member of the rebellion. He even meets a former stormtrooper in this who he forms a friendship with. He is my favorite of the new characters besides Kylo Ren / Ben Solo and I would like to see what is done with him in the future.
Leia Organa – Leia finishes Rey's training from the unused footage from prior films. It worked for me and I like that her last act was reaching out to Ben Solo so he could return to the light. It was strong and you see that Rey's healing in the force probably came from Leia's training. R.I.P. Carrie Fisher. I'm glad we got to know her more in this. One of the strongest scenes is when Luke tells Rey that when Leia finishes her training from Luke she realizes what becoming a Jedi will do to her son. The consequence of having the power is recognized and I like how that shaped her and made her choose to stay the politician and general instead.
Kylo Ren / Ben Solo – Ben Solo's arc is the biggest re-tread of prior films but it is also one of the things that works most about the film. In this it is in the act of Rey healing him and his mom reaching out to him with the last of her life force that change him to the light. After this he speaks to Han in his memory before casting away his red lightsaber. Adam Driver is acting the hell out of this film and he is a huge reason the film works. His redemption story is predictable but the way Kylo versus Ben carry themselves is noticeable and the steps to the transformation are rushed but worked. It was that heart of the film that I really felt anything and I appreciate that Ben dies to save Rey. It brings the story full circle and makes him the most developed character in the entire series.
The Cons:
Knights of Ren – The Knights of Ren show up and have no payoff. They don't feel like a threat. Phasma did more and I felt like she wasn't fully utilized or explored. We don't learn anything about them and they have no interaction with Kylo beyond being enforcers and fighting him at the end. They are missed potential in a big way and could have been worthy foes.
Palpatine and his Plan – We never lean how Palpatine survived "Return of the Jedi" except that the Dark Side cult is probably tied to the reasons and maybe he did have a contingency like his hidden fleet with Death Star weapons. Ian McDiarmid is of course amazing in the role, but his existence is just a re-treated of "Return of the Jedi" as we never get what his plan was for the First Order, since he created Snoke.
Rey's Origin – I wish Rey's parents had been nobody. Her being a Palpatine makes this universe so small, with everyone being related to everyone. Plus it is hard to imagine someone who wants to live forever (Palpatine) ever having a kid. In the prequels and original Trilogy he shows no interest in romance or sex at all. So her origin story becomes nonsensical and meaningless. She'd have fought Palpatine anyway regardless of her bloodline so it changes nothing.
Force Bloodlines and Return of the Prequel Problems – Rey being a Palpatine and Ben being a Skywalker bring back the prequel problem of the force and bloodlines, when it looked like the "The Force Awakens" and "The Last Jedi" were trying to get away from that. Leaning all in just elevated the problem of the origin story in the first place and takes away the mystique of the force. I hated in the prequels and I hate it once again here.
This film is a mess and I do wish they'd been more original than re-treading "Return of the Jedi." If you are a Star Wars fan chances are you will find something to like, though the things I hated might be a bigger deal for you as well. The Skywalker story is the strongest part of the film (Ben, Luke and Leia) and really what makes the film good. The characters are who carry this frenetic mess and elevate it to an enjoyable experience. If you liked the prior 2 films, you will probably enjoy this one. The flaws are huge and I wish Disney had been more original, but for a Trilogy that only really took risks with "The Last Jedi," this worked but could have been so much more.
8.6 / 10