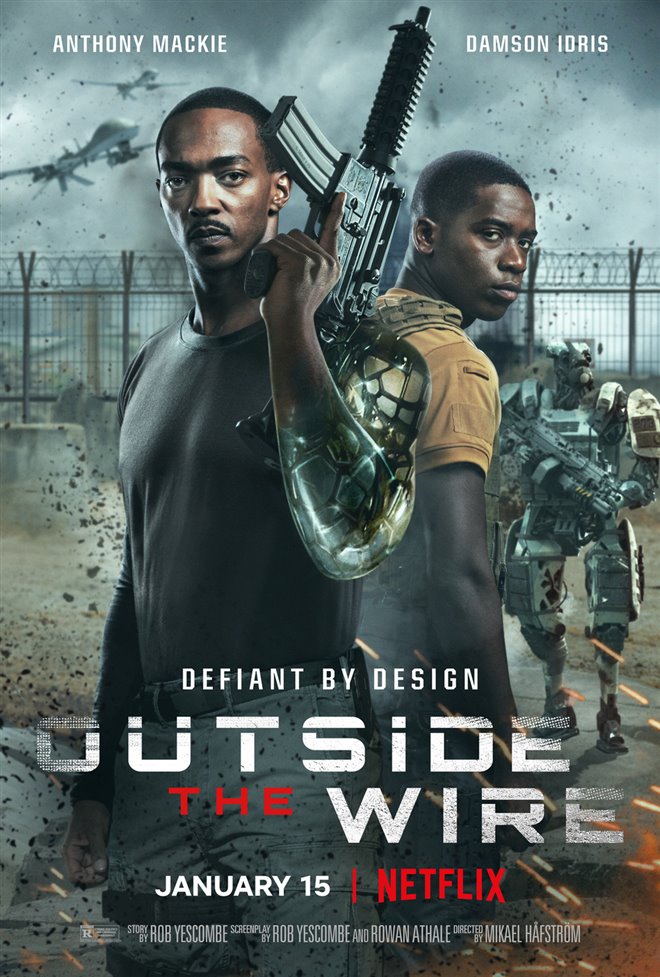 "Outside the Wire" is an enjoyable film, which is a rare thing to be said usually about films in January, though this seems to still hold true even with the pandemic changing so many release dates. Netflix is once again showing that they are willing to take risks on original sci. fi. scripts and I am here for it as though much of this film isn't cinematic it at least has a core compelling story in relation to the characters, which makes the film enjoyable in the end.
The film was directed by Jan Mikael Håfström and written by Rob Yescombe and Rowan Athale.
The story follows Lt. Thomas Harp (Damson Idris) when he is partnered with an Android Captain Leo (Anthony Mackie) to stop Nuclear War as conflict unfolds in 2036 in the Ukrainian DMZ.
SPOILERS ahead
The Pros:
The Premise – The idea of the United States using Gumps (robot soldiers) with human soldiers in war zones makes sense and I like how that is critiqued and explored as we get the perspective of the Russian backed resistance but also see the perspective of the soldiers and civilians experiencing the war. This is the strongest part of the film as Harp as a former drone pilot is forced to confront the human cost of each drone strike and rethink his perspective on things.
The Gumps – The Gumps have a great design. They have a head that looks like a camera and are bulky and humanoid in shape. Whether they are purely reactive or have deeper intelligence is debated as Captain Leo, the android does treat them with respect but in combat they are quicker to fire than their human counterparts. Their existence provides a nice premise that could have been explored more entirely on their own.
Col Eckhart – Michael Kelly does a great job as someone who starts out in an adversarial relationship with Lt. Harp but is willing to listen to him after Captain Leo goes rogue. He's a complex character who is trying to act from the big picture but because of it is blinded to both Leo's sentience and the cost of collateral in the conflict.
Captain Leo – Anthony Mackie is the heart of the film and really what makes it work. He's a sentient android whose goal is to end war as he sees himself as the face of endless war. At his base he is utilitarian and he decides that the best way to do end the war is the nuke the United States. This reveal takes time to happen and we see him connect with people as his plan unfolds. This makes him a great antagonist and his point reminded me of Ozymandius from "Watchmen" and his plan to stop the Cold War. The one thing is I wish we'd gotten more of his perspective as we do see him treat Gumps with respect but he never mentions if they have the same sentience as him.
The Cost of War – The film starts out with Lt. Harp calling in a drone strike to stop an attack on marines, but it does lead to 2 marines dying in the attack. He's disconnected from his actions and the people he kills in the strikes until Captain Leo is with him and they are traveling across Ukraine on the mission. This is handled well as we see him at orphanage where the kids are the survivors of those drone strikes and we also see how he's changed with the U.S. is calling in a drone strike while is trying to protect civilians. These were some of the stronger elements of the film.
Okay:
Lt. Thomas Harp – Harp is an okay protagonist but it was hard to see him as compelling. He starts out arrogant and becomes empathetic but beyond his connection to Leo and Eckhart there isn't much more there. He mentions his fiancé a lot and gets to save the world but nothing stood out in the performance or the writing, he was just fine.
Victor Koval – Pilou Asbæk (Euron from "Game of Thrones") plays the secondary antagonist in this as a Ukrainian Warlord wanting to bring about Nuclear war. He's okay in the conversation with Leo but he didn't show up prior and he barely registers as a threat in the end. He was a perspective that could have been explored but wasn't and Pilou didn't have the charisma in the scenes he was in to make him have a lasting impression. Still, like Harp it wasn't a bad performance, just wasn't memorable.
The Cons:
Pacing – This film is 2 hours long and it feels like it. I think this is largely due to it having trouble focusing on a message and trying way to hard to setup twists. This film could have had a half hour cut from the script and very little would have changed. This is really what was needed as so many of the deeper ideas weren't explored, which would have justified the runtime.
Cinematography – The cinematography looks cheap and ugly. The colors are saturated and it ruins how some of the action scenes unfold as I had trouble knowing fully what was going on in larger gunfights. This is improved later in the film but this should have been an easy fix.
Muddled Messages – The film starts out against drones and A.I.'s in combat but in the end a drone is what saves the day and we are told Harp was right to make the call he did at the beginning. All these things make the film look like it doesn't know what it wants to say, same with A.I. as it clearly doesn't like the Gumps being treated unfairly but then has Leo wanting to bring about nuclear destruction. What the writers should have done was stick with one or two core themes and fully explored those.
If you are looking for a fun rental than definitely check out Netflix's "Beyond the Wire." This isn't a bad film even if a lot of it doesn't quite work. What does work and how the world itself is presented and explored is compelling enough that I did enjoy the 2 hour runtime that made up the film. This film also continues to show the amazingness that is Anthony Mackie and it is worth it for his performance alone. This film was enjoyable and I hope we continue to see more original sci. fi. films.
Final Score: 7.5 / 10