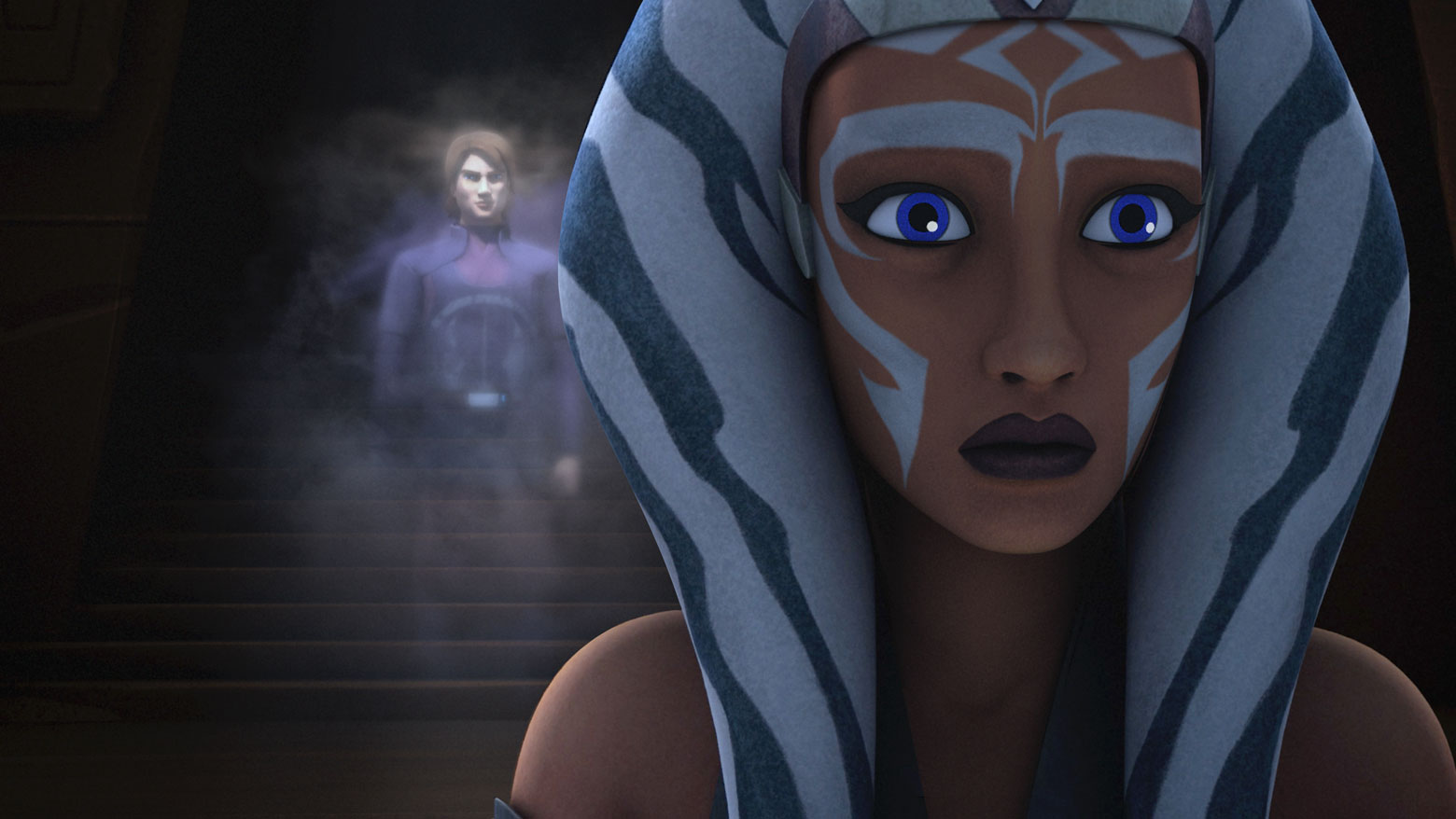 "Shroud of Darkness" is more great quality from "Star Wars Rebels." In this questions are answered and we learn just how amazing the Grand Inquisitor was and is. I like that he hasn't been forgotten as he was one of the characters who got me into the show in the first place. We also see the Inquisitors acting somewhat effective, which is always good.
     The episode was directed by Saul Ruiz and written by Henry Gilroy.
      The story involves Ahsoka, Ezra and Kanan returning to the Lothal Jedi Temple as the Inquisitors continue to find them wherever they go and they want to find out why by reaching out to Yoda. From here the story unfolds as a new layer to the Temple is revealed.
The Pros: The Action – The action is great in this episode! From Ezra and Kanan fighting the Inquisitors, from Kanan against the Temple Guards and the Inquisitors rising the Jedi Temple from the ground. This episode is great at showing just how powerful the force is.
The Jedi Temple – The Jedi Temple is really fascinating, as this time it revealed another room and with it more secrets. Curious to see how Sidious and Vader use it to their advantage given all the history within it.
Yoda – Yoda appears in this episode and offers great advice as we get an idea that he sensed but didn't understand what was coming and from that warns Ezra of how fear can be healthy but that can corrupt when it turns to anger. He also reaches out to Ahsoka to show he's proud, which is a sweet moment.
The Inquisitors – The Fifth Brother and Seventh Sister are great in this episode. The Seventh Sister finds the Temple and together they do a great job in their fights. Their will only breaks when the Grand Inquisitor appears in his uncorrupted form with the other Guards to face them. It's a powerful scene.
Ahsoka – Ahsoka is dealing with her anxiety over leaving the order and missing her Master Anakin. In this episode she learns what happened as Anakin's spirit is angry at her for leaving him and that now he is greater and stronger as a vision of Darth Vader appears. It's really well done and I like that she still has his training videos. She also doesn't see herself as a Jedi, which is powerful in it's own right.
Ezra – Ezra's drive is to protect his friends (hello Luke) and Yoda cautions him against letting fear for his friends control his actions. He may have understood but Ezra is such a cipher sometimes that it is hard to tell. I'm glad he got to see Yoda at least.
Kanan – Kanan's journey is letting go of Ezra and letting him make his own choices and from this he earns the respect of the light within the Grand Inquisitor, who appears in his uncorrupted form showing the Temple Guard fell to the Dark Side and that is the reason the Inquisitors have double bladed light sabers. This was one of my favorite parts of the episode and my respect for the Grand Inquisitor grew. What a great character.
The Grand Inquisitor – The Grand Inquisitor was once a Temple Guard and the light side within him counsels Kanan that he has to let go of Ezra and let him make his own choices, even if he turns. It's powerful and he makes Kanan a Jedi Knight. Seeing the good that he was once was before becoming the Grand Inquisitor is powerful, especially since his spirit and those of the other Guards turn on his apprentices the other Inquisitors, stalling them for our heroes escape.
Hints at Things to Come – Vader arrives to visit the Inquisitors and he mentions his Master will be greatly interested in the Temple, and when the Inquisitors give their warning he voices that he plans to use the growing power of the Jedi to turn them to destruction and their end. Please don't mess up Vader writers…do this right, let him win.
   This was a great episode and is easily one of the best this far. The fact that we get the Grand Inquisitors story and Ahsoka learns the fate of Anakin are powerful scenes and I do hope we see Ezra turn, though I don't know how it will be tun…he's too good, though I do hope he turns. The Empire and Dark Side need some wins, Season 2 has been a lot of neutral fights or Rebel Wins.
Final Score: 9.6 / 10