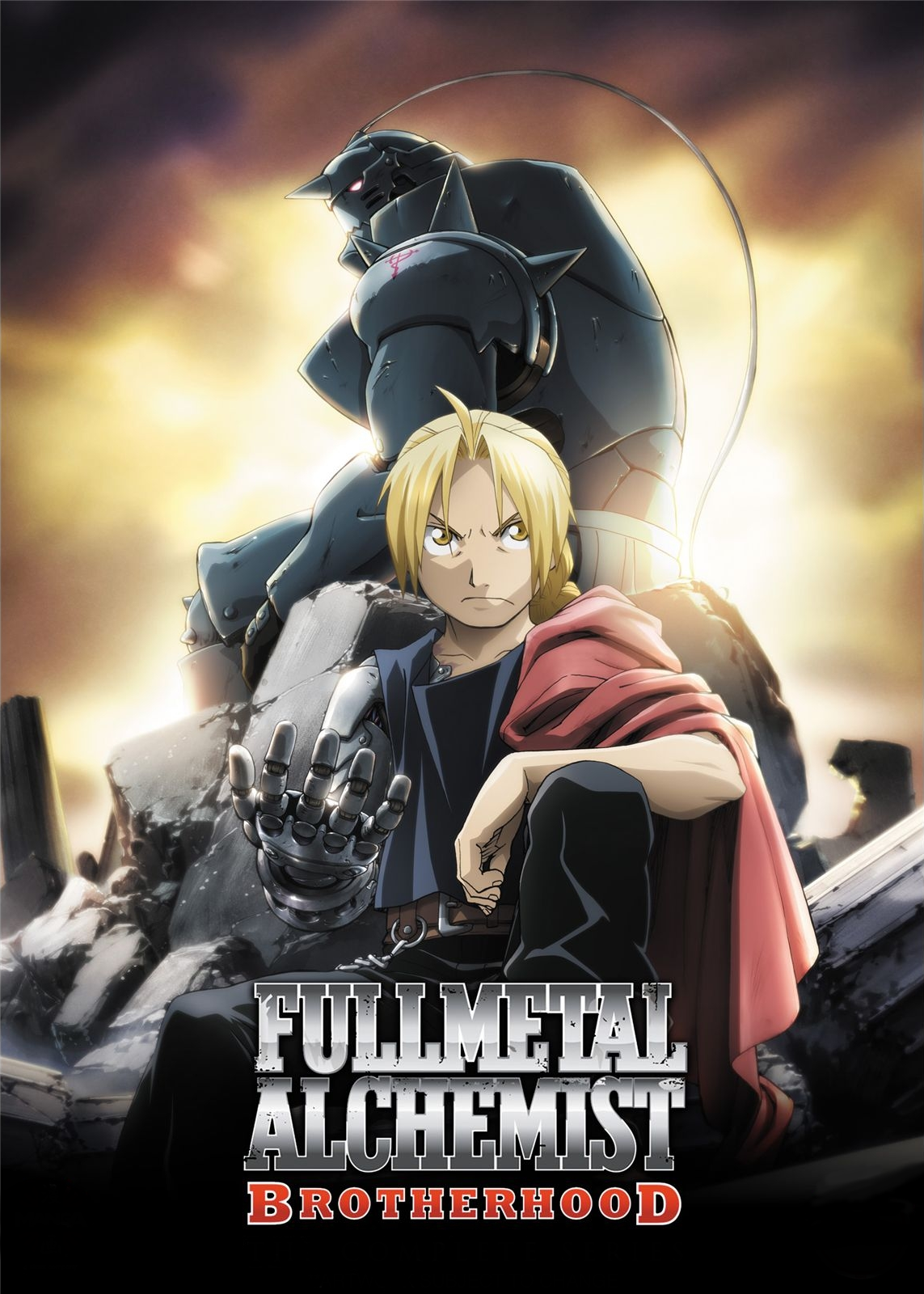 "Fullmetal Alchemist: Brotherhood" is one of my favorite animes of all time. This is an anime that has intriguing characters, philosophy, politics and a narrative that builds to a fantastic and rewarding ending. If animes are your thing, you should definitely check it out. This is a re-watch for me as I was looking for more long form completed stories to see during the Covid-19 crisis. Suffice to say, it still very much holds up. There is a 2003 adaptation that is quite different from the manga that I did not enjoy as much, but at some point will revisit. If you want to see some really fantastic deep video content checkout Wisecrack and Lowart's takes on "Fullmetal Alchemist: Brotherhood." They are amazing deep dives well worth your time and I want to give them a shout out before I explore my own thoughts on the show.
The series is based off the manga created by Hiromu Arakawa, directed by Yasuhiro Irie, written by Hiroshi Ōnogi and produced by Bones.
The story follows State Alchemists Ed and Al of Amestris as they seek to get Al's body back and free him from the armor his soul lives in. This all unfolds as the brothers and other characters slowly uncover the truth of their country and the nature of Alchemy.
SPOILERS ahead
The Pros:
The Soundtrack – Akira Senju's gothic inspired soundtrack is so beautiful and helps build the tension of the narrative so well. This is a story with consequences and that is reflected in the composition of the score who pulls on gothic choirs and somber instrumentals.
The Action – This show has some of the best fights you will see in any anime. Any time a character is fighting a Homonculus you get to see the full potential of both the fighters. You get the superhuman speeds of the inhuman homonculi and the power and magic behind the attacks the alchemists bring or the martial arts from the characters from Xing. It is hard to choose a favorite fight but the personal nature of anyone facing Wrath is extremely warding as well as Lust against Mustang.
The Politics – The politics of "FMA: Brotherhood" are one of the strongest aspects of the story. We have the Ishvalin Civil War, which is used as cover for Amestris to destroy them. We see them clash with their northern neighbors Drachma who they've clashed with in the past and the rise of to power as many Generals vie to control Amestris as they plot the downfall of the Furor Bradley. Within all this we see the stories of the Ishvalin refugees, meet characters from Xing, seeking immortality through Alchemy and see the clashing between clans happening there. All of these struggles are told through character interaction and we come to care about the people and their missions.
The Characters – The characters are the best part of "FMA: Brotherhood" as it is their struggles and stories that bring meaning to the political and philosophical battles that unfold. This show made me care about random characters who were introduced as muscle for enemies and even the villains get explored in a compelling way. The exploration of the villains is best executed through the stories of the Homonculi who will get their own section in this review. What makes things work the most is the characters and their relationships change. Ed and Al inspire people to be better and even they go through crisises of identity when faced with the monstrous acts of others or the consequences of their choices or situation. This applies to all the characters and I felt for anyone who died over the course of the show.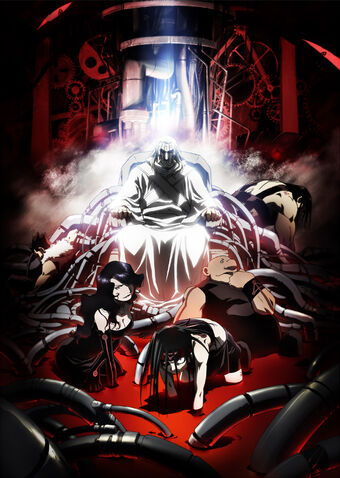 The Homonculi – The Homonculi are the primary antagonists of the series. They are lead by "Father" who became the form of Hohenheim after he used the destruction of Xerxes to create a philosopher's stone. After this he tore his voices from himself and made them his children. These are the Seven Homonculi – Wrath, Pride, Envy, Greed, Lust, Sloth and Gluttony. All of them are compelling with most being muscle at different points. Gluttony and Sloth are muscle. Lust and Envy are the ones trying to get under characters skin and acting as assassins early on to keep Father's plot hidden. Pride is the one watching and controlling a lot of what is going on. Greed is doing his own thing and Wrath is King Bradley. Greed and Wrath were my favorites and I'll into that further.
Wrath / King Bradley – Wrath was an orphan raised from birth by mad scientists to some day potentially lead Amestris. He survives the philosopher stone that is put into him and so much of his life is seeking his own choice. This is one reason the rebellion against him gets as bad as it does. Wrath wants something unpredictable and challenges to fight as it is only in battle he truly feels alive. He also still holds onto his humanity as he took a wife who clearly cares about even though I don't think he is capable of love. He is one of the best antagonists in the series and is dynamic, charismatic and threatening anytime he is in action.
Greed  – Greed is the Homonculi who grows. In the beginning he has a gang of Chimera (part-human, part-animal creations) who Wrath takes out as he is seen as a threat to Father's plans. Father destroys him but later introduces him once more as a pawn to be used when Ling, a Lord of Xing is captured. From here Greed protects Father and stays out of his way until Ling establishes more control and the memories of what Wrath did to him come back. This eventually leads to him realize that he desires people and power in order to have friends, which leads to his final sacrifice to make Father vulnerable in order for Ed to finally defeat him. It is a powerful arc and I loved that he changed over the course of the show.
Defining Tragedy – One thing that defines the stakes and choices in this story is that of tragedy. Scar and the death of his brother and the Ishvalin people, Scar's murder of Winry's parents who were caring for him, Ed and Al's loss of their mother (and Al's body and Ed's arm and leg), Izumi and the loss of her child, the murder of Maes Hughes and the death Nina and Alexander. All this happens early on or is revealed over the course of the earlier arcs. It is beautifully done, and keeps the stakes high through the series. Loss is what defines these characters and it is their facing that loss and the consequences that they change.
Forgiveness – Forgiveness is a running theme of the show as it is the first step for a character who has done wrong to realize they can atone and can change their actions. This is seen in the Ishvalins refugees who forgave the military and are there fighting with them at the end to overthrow King Bradley and in Winry whose forgiveness, that changes Scar and his hunt to kill all Alchemists.
Winry – Winry is a fantastic character who takes an active role in her destiny and country's future. So many times Ed and Al try to protect her from the truth (Scar, murdering her parents) but she learns it any way and lets them know that she is here to help beyond being Ed's mechanic. I really liked her arc over the course of the show as she develops as a mechanic and sees more beyond her village and friendship with Ed and Al, even as her relationship with Ed is sweet and I like that they end up together. She is smart and honest and though she won't kill Scar and forgives him she says she can't abide by him continuing to murder. This holding of account while not giving into hate changes him and it is thanks to Scar joining the fight that it is even possible to defeat Father in the end.
Atonement – Another theme in the series is that of Atonement. Mustang and his men are attempting to redeem themselves for the wrongs they committed in Ishval. Scar is attempting to redeem himself for the murders he committed and Ed and Al are also seeking atonement for their attempt to bring back their Mom, just as their Father seeks atonement for his empowering of "Father" and being a very terrible dad himself. There are other examples as well but these are some of the strongest as it is the mistakes characters made that inspire them to change things and make things better for themselves, their people or country and the people around them.
Mustang – After the horrors Roy Mustang committed in Ishval, he and his men promise to change the country and that they will make Mustang leader in the process to write these wrongs. It is powerfully done and we see Mustang facing his internal rage as well as his guilt. It is Ed and Hawkeye who show help him get past that final step to become leader when he nearly kills Envy in revenge for his killing of Hughes. In the end Mustang lives and is working to help Ishval with the hint that eventually he will become leader of Amestris.
Scar – Scar is first introduced to us as a complex antagonist. He is hunting down Alchemists on a religious crusade as he sees Alchemy as an afront to God. He is also seeking revenge for the death of his brother and the destruction of his nation by the Alchemists of Amestris. This rage and belief that drives him doesn't change until Winry forgives him for his murder of her parents but holds him accountable for the evils he still commits. He sees her justice as worth it and the fact that she doesn't kill him forever changes him. After this he becomes an eventual ally of our heroes and their war against "Father" and King Bradley. In the end Scar defeats Bradley and we see him unite with the refugees among his people and become a leader. What he and the Ishvalin refugees do is essential to defeating "Father." Scar is such a wonderfully complex character and has one of the greatest arcs on the show.
The Cost of Hate and Revenge – The cost of hate and revenge are a running theme in the series that also gives it strength. Scar and Mustang are nearly defeated because of how it consumes them. Envy's hate for humanity leads to him killing himself when they fail to give into the hate they should feel for one another. What is a part of this is that killing in murder or revenge will change you and in turn you will only hurt more in the process. Scar's journey is truly the best execution of this path. Ed and Al and Winry and Hawkeye are the one keeping the characters balanced as they always seek alternative and also face their rage or guilt and find out why they feel the way they do. It is powerfully done and I loved this element of the show.
The Philosophy of Equal Exchange – One of the most intriguing aspects of the show is the philosophy of equal exchange. Everything has a price and is a part of something else. This is expressed anytime Alchemy is used as something can't be created from nothing and when characters confront the mysterious "Truth." "Truth" always takes something and in turn a character gets back something in turn.
All is One and One is All – Within Alchemy is the philosophy is all is one and one is all. This is part of Equal Exchange as something cannot be made from nothing. This philsophy is also taken literally in how the Homonculi are defeated or changed. The Homonculi are powerful one on one or against one or two people but whenever they face multiple characters or forget the people that make them up within the philosopher stones that birthed them, they lose. "Father" loses because he fails to recognize the individuals within him, and it is even the final act of one of his children Greed sacrificing himself changing him physically that leads to his final defeat. The multiple standing as one are more powerful than any single individual even if they wield the power of "God."
Hohenhiem and "Father" – Hohenhiem grew up a slave in Xerxes, which is where "Father" who at the time was "Dwarf in the Flask Homonculus" was also a slave to the Alchemist. "Dwarf" teaches Hohenhiem and helps him become an alchemist himself. He is even the one who gives Hohenhiem his name as at this point he only has a number as an identity. and eventually gains a form when he tricks the King of Xerxes as nationwide Alchemist Circle is used to create a philosopher stone. From this Hohenhiem gains immortality and "Dwarf" becomes "Father" and takes Hohenhiem's form.
Ed and Al – Ed and Al are the heart of the show. They are idealistic brothers who refuse to kill. They are also driven by their guilt for their attempt to bring their mother back to life through alchemy. Ed is more stubborn and loud while Al tends to be more reflective. We also see how hard is life is too. His soul is in armor as it was the only way to save him and because of this he can't sleep or feel anything. This makes his fight through the series all the more powerful and gives strength to all his arguments to Chimera about them choosing to live and to find a cure. Ed doesn't carry that same trauma but he is in the thick of the politics and it takes time for him to open up as his early arc is holding his trauma close. Winry is one of the first he opens up too and I love that they end up together by the end. These are two of the most compelling protagonists in any anime and it is their wonderful flaws that define them and their choices so well. They deserved getting Al's body back and in the end they are still seeking truth as it is Ed giving up his knowledge of alchemy in order to bring him back.
The Cons:
Whiplash Between Humor and Seriousness Early on – I am not a fan of when shows jump between a more serious art-style to chibi and cutesy. "Brotherhood" has this problem early on but it happens far less as the series goes on. For that reason I'm willing to give this con more of a break since I can see why it was used as it is an attempt to give humor to all the tragedy that happens over the course of the show.
The fact that the only real con is the very common anime animation and humor whiplash is a testament to just how strong this show is. I came to care about nearly all the protagonists but they minor or major characters. There was nuance in how they were written and their relationships. We also had a show that explored philosophy and identity deeply. We got all of this told through a beautiful animation and soundtrack. It has been a while since I've reviewed or watched anime and it was very worth it return back to this stunning story. I highly recommend it to anyone looking for a fantastic and deep story.
Final Score: 10 / 10 The show does have flaws, but the strengths of it far outweigh those flaws. This is an example of how to tell a great long form story with consequences that can explore deeper themes.