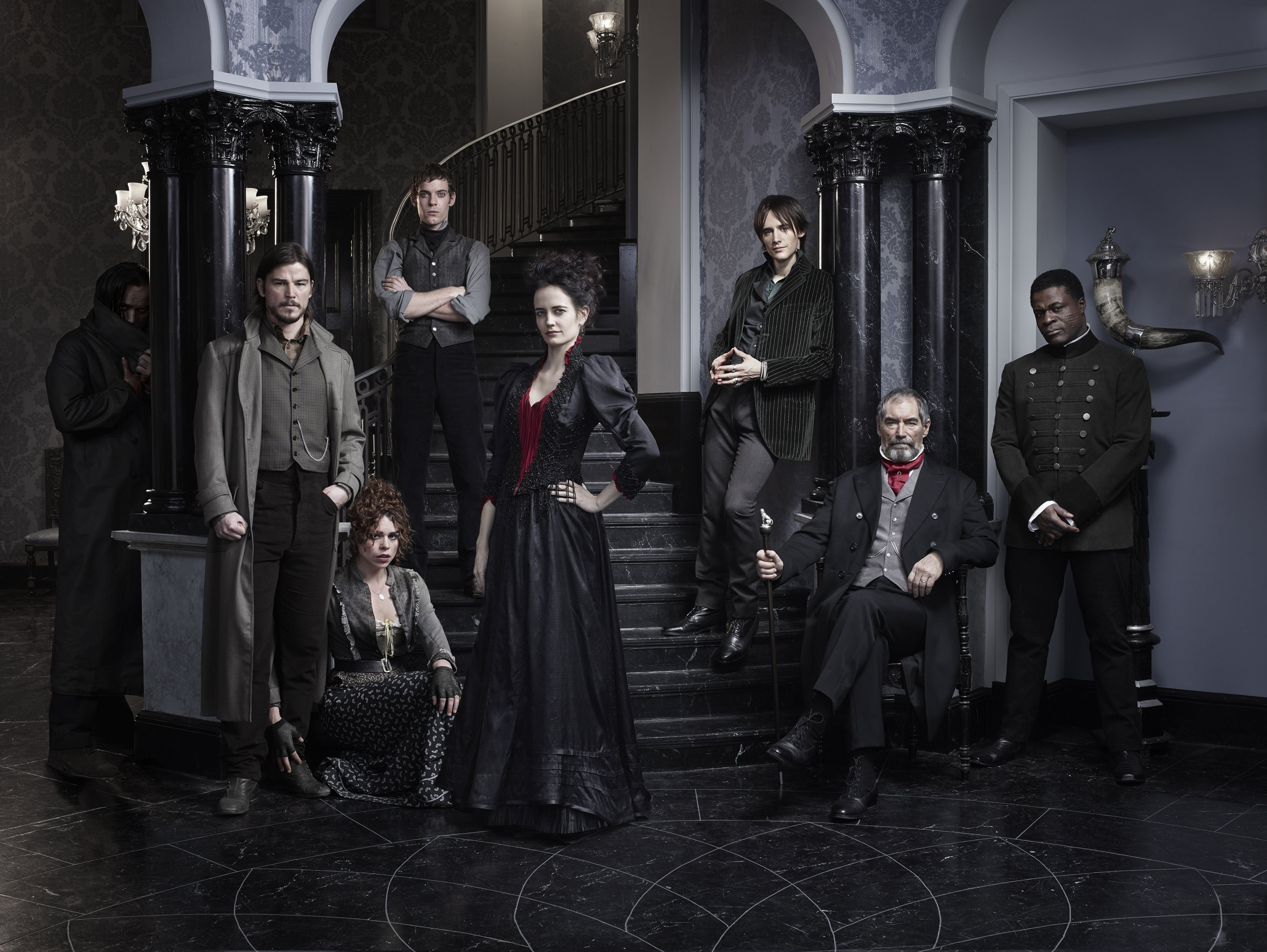 "Penny Dreadful," Season 1 was quite enjoyable. I've read all the books it pulls inspiration from "Dracula," "Frankenstein" and "The Picture of Dorian Gray" to name a few and I like the twist it took on the characters from these stories while creating it's own lore. The casting for this show is absolutely fantastic. Eva Green could have carried the show on her own but Harry Treadaway, Billie Piper and Timothy Dalton bring so much nuance and depth to the characters they inhabit. There are problematic areas of the show that come out in the time period it takes place in (The Victorian Era of England) and I'll get into that deeper into the review.
The show was created by John Logan who produced the show along with Sam Mendes.
The story follows Vanessa Ives (Eva Green) and explorer Sir Malcolm (Timothy Dalton) as they recruit others in their quest to save Malcom's daughter Mina from a mysterious supernatural force.
SPOILERS ahead
The Pros:
The Mysteries – There are a few mysteries that provide the basis for the show. There is the mystery of who has Mina (we learn it is Vampires), what is the aim of the evil force that inhabits Vanessa, What is Dorian Gray's endgame? Who is responsible for the brutal murders? (It looks like both vampires and later on we see werewolves as a possible culprit too). These are the mysteries that drive the show and from these mysteries what choices it will prompt our characters to make.
Dorian Gray – Reeve Carney plays Dorian Gray and like Dorian Gray from the book he is a character who is all about new experiences and doesn't care about people beyond how he can use them. This makes him an antagonist or at least an anti-villain but we don't know his aim beyond the seeking of new experiences. He ends up sleeping with half of the main cast and each time it is when they are at their most vulnerable and in the case of Vanessa triggers her possession. His very nature is dangerous and Reeve plays him so well as this unaging, intelligent, beautiful and selfish man. I'm curious to see where his story will go in Season 2.
The Team – The Team works largely because of their relationships with each other. You have Sir. Malcolm and Sembene who have history in Africa together and Sembene holds him accountable to having to possibly kill Mina if she can't be saved. You have Vanessa who was Mina's friend and is like an adopted daughter to Sir. Malcolm. You have Ethan who is running away from his past in the United States and holds a dark secret but connects and falls in love with Brona a woman dying of tuberculosis. You also have Dr. Frankenstein and the 2 creatures he makes and his history with both of them.
Dr. Frankenstein, Proteus and Caliban – Harry Treadaway does such a fantastic job of making Frankenstein a man disconnected from people and obsessed with creating life of his own. We see him succeed in this when we first meet Proteus who he creates and who he lets name himself and we even see Proteus begin to recall the life he lived before his death. Sadly it is cut short by Frankenstein's firstborn creation Caliban. Caliban is tortured and was born out of pain and holds nothing but resentment for his creator. This changes when in the end the only person he can turn to is Dr. Frankenstein and they come to an understanding. These two relationships are complicated and illustrate how broken Dr. Frankenstein is as in the end his creations are reflections of him in the actions they do and the actions he does for them.
Ethan and Vanessa Ives – One of the healthiest relationships on the show is that between Vanessa and Ethan. Vanessa is the one who is willing to believe in Ethan and he believes in her in turn. They have a deep friendship and in the end it is Ethan who rescues her for rescuing him when he is able to cast out the possession with a trinket Brona gave him as she was dying. It is a powerful scene and I appreciate how honest their relationship is. He tells Vanessa about Brona and she supports their love. It is touching and really the only healthy relationship on the show.
Ethan and Brona – Ethan and Brona is a sad tale. They become a couple pretty fast but run into trouble when Dorian triggers Brona's self-doubt as he had slept with her earlier and it is after her lashing out at Ethan that he also sleeps with Ethan. Neither of them know this about one another but they are both running away from their guilt about their pasts. In the end Brona is killed by Dr. Frankenstein who promises he will bring her back in immortality, of course Ethan doesn't know this and it is her death and his isolation from the team as well as being hunted by men sent by his father that trigger him turning into a werewolf and him slaughtering an inn…leaving him as the possible secondary antagonist next season.
Sir. Malcolm and Vanessa Ives – This is the most toxic relationship on the show that eventually pays off into some sort of balance. Sir. Malcolm uses Vanessa to find Mina but in the end chooses her over Mina who has been lost to the darkness and become a vampire. The arc getting here involves the two of them hurting each other so much as they both reel from how they hurt their family and one another. Vanessa is willing to confront her guilt and Sir. Malcolm truly isn't until the end. Vanessa is a good character where I'd say Sir. Malcolm is not, at best he's a protagonist who functions as an anti-villain because of his past and current actions.
The United States Colonialism – Through Ethan we learn about the death of the indigenous people in the Indian Wars in the United States and thankfully it isn't glorified. Whenever it is talked about it is with shame and guilt and Ethan clearly has PTSD for fighting in the wars. We learn about the children missionaries stole from their tribes and lost generations…I hope we learn more as this is a huge part of Ethan's identity and I appreciate that the show recognizes the atrocities that it was.
The Cons:
Sir Malcolm's Colonialism – Sir. Malcolm goes to Africa with his son and we learn that he raped and pillaged his way across the continent. The only time this is called out is when Vanessa is possessed, no character calls out Sir. Malcolm for the evils he committed in Africa has a colonial "explorer." This is easily the most problematic element of the show and I really hope next season calls him out. I'm also left wondering where Sembene's story falls into this and I hope we get the story of why he follows Sir. Malcolm.
The Era's Sexism – Sexism is a fairly common trope in this series and it is largely expressed in how Vanessa is "protected." The way Brona is used by Dorian Gray and others in her past (her abusive fiance) and Sir. Malcolm's dismissal of any woman but his willingness to still use  and abuse them. It is disgusting and again, Sir. Malcolm is not called out which I hope happens later…same goes for Dorian Gray.
I enjoyed "Penny Dreadful" a lot. This is my kind of horror trash and the casting perfection and mysteries are largely what make it work. I can't wait to see where these character arcs go as I care about them. My favorites are Vanessa and Brona but even the other supporting characters have nuance and depth to them even if they are nothing more than awful people. In the end I'd say this show is worth checking out, you should just know the problematic elements going in as it is the biggest problem I have with the show.
Final Score: 7.7 / 10