The Netflix Marvel "Defendersverse" is an experiment I wish had gone on. Outside of "Umbrella Academy" this is the only quality superhero content on Netflix and here they gave us so many amazing characters and storylines. I don't know if Disney will take those same risks and given Disney's growing corporate monopoly I'm not all that inclined to support Disney Plus. This was a series that I overall enjoyed. "The Defenders" season 1 was even great in how bad it was, but because it was bad it did not make this list. Every season on here is a season I would come back to re-watch or have gone back to re-watch. Also, I feel Disney taking these characters back probably won't work. I like the Marvel Cinematic Universe but we have not seen them take the kinds of R rated risks this series or really "Deadpool" took. So hopeful but doubtful we'll see these characters again as great as they were before, if ever again.
Slight spoiler warnings here. If you want to watch "The Defenders," "The Punisher," "Daredevil," Jessica Jones," "Luke Cage" and "Iron Fist" and haven't yet this review isn't for you. I have to talk about the content on why I enjoyed these shows or didn't enjoy them, and that involves spoilers so…
SPOILER WARNING for all the shows I just listed.
5th – "Daredevil" Season 2
Finding 5th place on this list was somewhat difficult. I felt "Iron Fist" Season 2 solved many problems I had with Season 1 and "The Punisher" Season 1 is great when it doesn't get distracted.  What ended up being the deciding factor for me were the side stories. Frank Castle is introduced in this season and his face-off against Daredevil is perfection. It is a fight I'd love to see Batman have more against a friend or ally who crosses his line. This season did that. We also see how Matt's obsession wad destroying his relationships. From Claire to Foggy, Matt when he was all in as the weapon Stick had built him to be, he was screwed. This could have been more if "The Hand" was written as a more compelling villain but them not being more compelling is a reason this isn't higher on the list and had to be debated on to get here. The Karen and Castle story is far superior to the Matt and Elektra story and that is where the side stories being stronger made me appreciate this season. Frank Castle's arc in this season is better than either seasons of "The Punisher." This is a season worth a re-watch for the B plots.
4th – "Jessica Jones" Season 1
This is a season that didn't make the best use of Killgrave as a villain for the climax of the story. Throughout the story he is a great threat, but when he has the power to control anyone who here's him with his voice we get nothing interesting. I blame lack of creativity for this. What works though is Jessica Jones and her relationship. Her relationship with her adoptive mother and adopted sister are where she first stands up for another due to her adoptive mom abusing her and Trish. This leads her doubting herself later on due to her isolation from them and Kilgrave's using of her and all those around her she cares for. Krysten Ritter is absolutely amazing as we see her work through how she was abused and gaslighted by Kilgrave. From here her arc is the slow building of community and fighting to stop Kilgrave. Most episodes are good to great, it is just the climax and Killgrave's powers being so underutilized in that climax that keep this season from being higher on the list. David Tennant as Kilgrave and Krysten Ritter as Jessica Jones carry the show and the more time away from the show more the story grew on me. There is so much good here.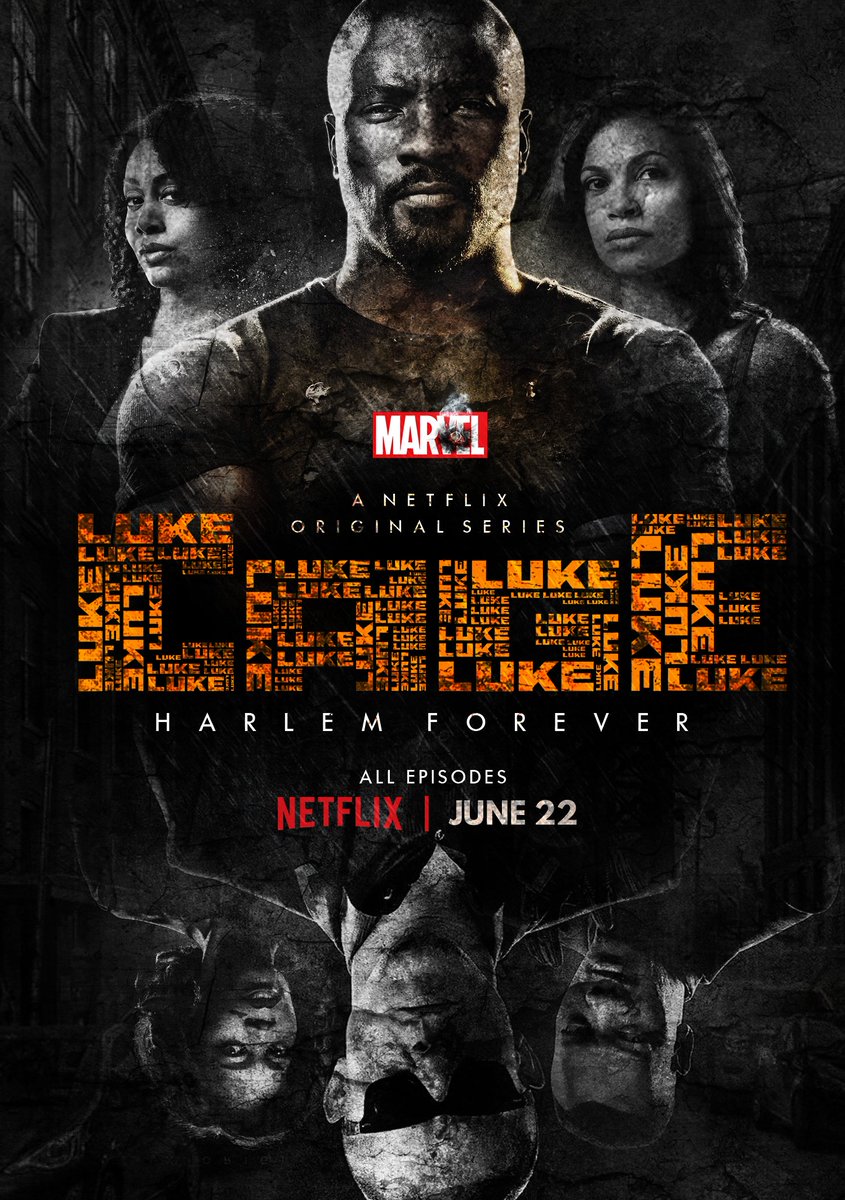 3rd – "Luke Cage" Season 2
"Luke Cage" Season 1 had one of my favorite villains in Cottonmouth. He didn't last but due to how villains and antagonists are used this time around, and Luke's own ego growing lead to an exciting season that I loved. Mariah makes up for the amazing threat of her brother "Cottonmouth" not being around. "Shades" is a great villain beginning to question what he is doing and his loyalty and "Bushmaster" shows up and his war against Maria hurts Luke Cage's protection of Harlem forcing him to change further and make some difficult decisions that only make him more compelling. Like Jessica Jones and Matt Murdock, Luke Cage is someone who is someone who pushes others away. In this case it is different though because he feels invulnerable and that feeling never really leaves as he realizes he has to make tough decisions to keep Harlem safe. I loved that. He ends almost as an anti-hero and it works. He was a character who is good at the core but also human and has an ego that ruins his relationships. In the end he is all about the big picture and like most heroes in the "Defendersverse," this makes him isolated. This season was great. The flaw on why it wasn't higher is Mariah should have been used more and been longer lasting in power.
2nd – "Jessica Jones" Season 3
"Jessica Jones" Season 3 builds on what worked about Season 1, but has a better conclusion. One of the only reasons this season is better than "Luke Cage" Season 2 is because this season has a level of hope the other prior ones don't have. I get that Netflix is walking a line of dark R "Marvel Cinematic Universe" which I feel should still go on, Netflix has more than earned it. This season goes fully dark but the fact that it ends with hope and our heroes like Jessica and Malcom choosing the good gives me that perfect bittersweet. This season is where we see Jessica become the hero while dealing with Trish and her abuse like Matt Murdock's leading to her becoming a weapon akin to Daredevil and The Punisher, except Trish does kill. What helps with this dilemma is them facing off against a serial killer named Sallinger. He like Jessica and Trish was also abused and used it to become a monster who targeted Inhumans believing them to be cheaters for having abilities. The season arc is powerful and I loved where everyone ends up. Luke Cage post his own Season 2 meets up with Jessica and reminds her of her choice and responsibility to stop Trish. It is great and I miss that as far as we know right now, we won't see more of their relationship.
1st – "Daredevil" Season 1
"Daredevil" Season 1 is still the height of the show. We get to introduced to amazing villains like Wesley, Madam Gao and the Kingpin. This is a show that is truly carried by the villains as they are on top for most of the film, which gives Matt Murdock so much he has to fight against and work for. This is a season with cost. Season 3's Kingpin is never as threatening or effective as he is this season. This season is also where Matt is most human and we come to understand his obsession through his backstory and the murder of his father. It is powerful and Kingpin's story mirrors it in the killing of his father to protect his mother. Both of them were shaped by those around them and came to have a warped view on what it means to protect what they believe to be theirs. This mirroring of one another and the war against Kingpin who has united the gangs is beautifully handled. I also love Claire and Matt's relationship far more than the Karen and Matt relationship of later seasons. This was the season that kicked off the entire "Defendersverse" and still remains the best of them all.
I know "Disney+" might bring some of these stories and heroes and villains back. I'm just less likely to trust it. Unless they are the same writers who have clearly shown an ability to learn and also giving "Disney" some competition…I don't want a monopoly. I want competition and so far I have seen nothing from "Disney" to show they will be putting out original films and shows the way Netflix is. Support competition and indie films and show please. This subset of the "Marvel Cinematic Universe" being absorbed is not something that gives hope in the corporate game of control of "Marvel" or any other franchise.