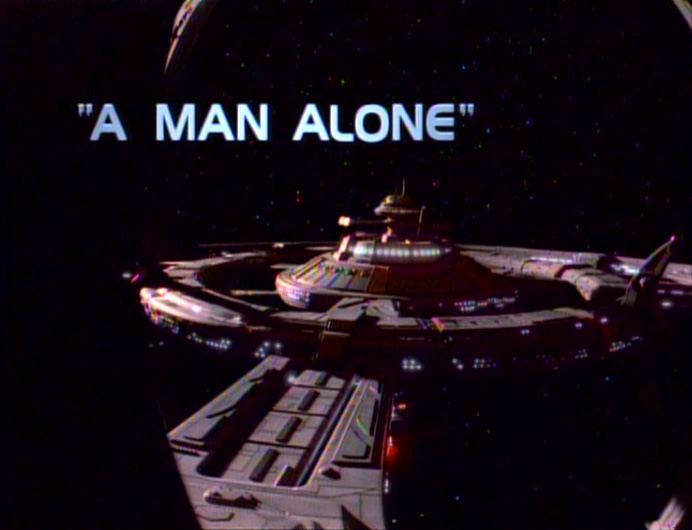 "A Man Alone" is a fun episode. It isn't good, but it is enjoyable. This is the 4th episode of season 1 and you can tell the writers are still finding their footing. The story is following a core mystery plot that needs more development of the villain and a B plot that gives the episode more life, but doesn't quite make it good. Early "Deep Space Nine" was still defining itself and this episode is a good example of it. It does still make for an enjoyable outing though.
The screenplay was written by Michael Piller who co-wrote the story with Gerald Sanford and directed by Paul Lynch.
The story involves an old enemy who of Odo's who turns up on the station who winds up dead behind a locked door, with Odo as the prime suspect. The secondary plot follows Keiko as she finds purpose on the station.
SPOILERS ahead
The Pros:
Commander Sisko – This episode is a good Sisko episode. It is in this episode we see him negotiate Bajoran hatred of Odo when Odo is blamed for a murder he didn't commit. It is Sisko taking control of the situation that stops Odo from getting killed or injured when a mob of Bajorans has fallen attacked Odo's office. Sisko is my favorite Captain, though at this point in his story he still a commander as he doesn't have The Defiant yet.
Miles and Keiko – The B plot follows Keiko and her finding purpose on the station. I'm including Miles here because he is very much the supportive spouse. He comes up with a few ideas to help with the isolation and you can see just how much he loves her. Miles knows she chose to come here but it also meant giving up opportunities. Keiko also clearly can find her own way. We see her watch the fallout of Nog and Jake harassing civilians and realizes that the children on the station are just as isolated as she is. This inspires her to make a school. Keiko is truly an underrated character and this episode is a good example of why she is so good.
Jazdia Dax – This is a good Jazdia episode. We see her turn down the multiple advances from Dr. Bashir when he is being a creep and also learn more about the Trill. At this point in her life as Trill she's lived many lives and is trying to get away from attachments. This changes later on the series, but right now she is trying to be the greatest being she can be. She has so much patience dealing with Dr. Bashir. We also see her friendship with Commander Sisko develop as she clearly isn't his mentor Kurzon but that they can still relate and talk even with Jazdia's aspirations to be the best of the Trill.
Isolation – A major theme of the story is how isolating it is for many of the characters on "Deep Space Nine." Whether it is Keiko feeling like she has no purpose or Odo being othered by the Bajorans, countless people feel alone. It is out of this loneliness and isolation that friendships can arise though, as we see with Nog and Jake's friendship in the episode. We also see how the idea for the school was born out of Keiko's own isolation.
"The Other" – "The Other" is a major theme of the episode. This is Odo's character and he illustrates it in a few ways. From him calling out he doesn't trust Commander Sisko because they don't know each other and also that because he served as security during the Occupation of Bajor and isn't a Bajoran that Bajor will always see him as different. He is a changeling and isn't a solid. This is a major defining part of what defines Odo and this episode shows why this is. He is the unknown and the fearful, stupid masses are easily turned against him when he is framed.
Okay:
Ibudan – Ibudan is the antagonist of the episode and he isn't great. I'm not putting him as a con because the idea of killing your clone to frame someone is a brilliant idea. We never see him talk to Odo though. For a villain he isn't given much to do in regards to interacting with the cast. This doesn't hurt his presentation but it makes it incredibly average and forgettable.
The Cons:
Julian Bashir – Alexander Siddig is one of my favorite actors. This is a situation where I blame the writers. Julian Bashir comes off as a creep in this episode. Jazdia turns him down multiple times and he keeps trying. Bashir becomes an amazing character later, but early on he does not make himself endearing in any way. He's over eager and a creep and he's the head Doctor on the station.
"A Man Alone" is a solidly enjoyable mystery and exploration of the station. The strongest writing involve any time isolation is explored and the B Plot with Keiko and her formation of the school is good example of why. Where it falls flat is in Bashir's inability to take a hint or to respect Trill culture (Jazdia tells him she's not interested in romance) and Ibudan as a villain is only okay. He really needed more development and we should have seen him interact with Odo before the murder to put more suspicion onto Odo. For these reasons I can't really say the episode was good. I'd still recommend it to any fan of the show though. There are some good things that happen in the episode, even if the overall quality never gets beyond enjoyable.
Final Score: 7 / 10. This was a solidly enjoyable episode.