It has been a while since I've written anything on "Doctor Who" so I decided to explore my favorite enemy factions the Doctor has faced. I'll be pulling from some enemies who have appeared in both classic and modern who and will not be choosing individual entities like The Master, Davros or The Great Intelligence. My primary focus with this list is focusing on civilizations and exploring their appeal to me. It feels wonderful to write about all of this again as I enjoy both eras of "Doctor Who" and for me one of the greatest draws has always been the alien civilizations that have been created through the years and how sometimes they are used to reflect aspects of humanity or the Doctor in their missions. I have not read any of the "Doctor Who" books or listened to any of the audiodramas and am just pulling from episodes I have seen from both Classic and Modern "Doctor Who." For popular enemies who did not make this list I'll give a shout-out to the Sontarans and Cybermen who have unique cultures but at least in the case of Cybermen are often used by other people as minions. The Time Lords also did not make this list as more often than not they act largely as corrupt humans when they are antagonists. So without further ado, here is my list.
5th) The Weeping Angels
     First up, in 5th place are the Weeping Angels. They first appeared in "Blink," during the Russel T. Davies era of the show and were created by Stephen Moffat. There initial introduction presented them as the compassionate assassins. The basic deal with the angels is the they transport you back into the past and feed off your potential energy that was left behind. Beyond their need to eat they aren't that complex and we haven't seen any hierarchy among them. It is for this reason that they are not higher on the list. They function as a monster faction but are unique monsters as they appear as statues when you look at them. Later episodes like "Time of Angels" and "Flesh and Stone" played them primarily up as the monsters simply wishing to feed and didn't even use the time travel aspect, though there was a return to the time travel assassin nature once more in "The Angels Take Manhattan." If they are to be brought up again I hope we see more complexity in their culture as they continue to be a fascinating threat, even if later episodes after "Blink" did dumb them down immensely. They have faced off against the 10th and 11th Doctor thus far in the show so there are still stories that could be told in future iterations or even Anniversary events where multiple Doctors could be present.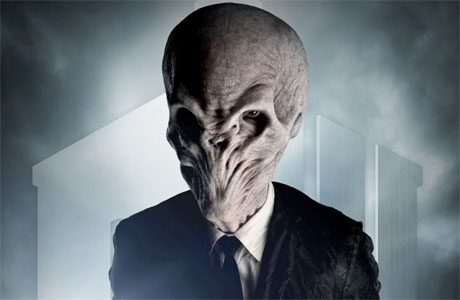 4th) The Silence
The Silence are an enemy who has so far only faced the 11th Doctor. Originally created as genetically engineered priests made to take confessions for the Papal Mainframe a faction of them broke off and sought to end the Doctor in order to save the universe. This faction is creepy and a great threat as anyone who interacts with them forgets them when they stop looking at them. These enemies were created by Stephen Moffat and have so far only appeared during his era of modern "Doctor Who." Unlike the angels who got dumbed down, this faction never reached the height of fear in their first introduction in "The Impossible Astronaut" and "Day of the Moon" but did remain a consistent complex threat. In Series 6 the Kavorian Faction shows up at the beginning and end and each time brings tensions as the heroes mark how when they see with tally on their skin. This is a faction I still see promise in, as they did fight with the Doctor in the terrible final "The Time of the Doctor" so there is more that could be done with them as either friend or foe. The fact that you forget them when you look away still leaves them ripe for story, and who knows how their culture could change over time and how they might find identity outside of the one placed upon them by the Papal Mainframe.
3rd) The Daleks
The Daleks are one of the most common and popular enemies in "Doctor Who." This is a faction dedicated to the destruction of anyone who isn't them and are mutants from Skaro created by the mad scientist Davros. The Daleks have been in countless episodes of "Doctor Who" and first appeared facing off against the 1st Doctor and have even faced off against the most recent 13th Doctor too. Over the years the most interesting things that have been done with are Civil Wars for leadership such as the Emperor Dalek, Supreme Dalek and Davros as the many leaders of factions and have even had moments of humanity in the modern era. I highly recommend "Dalek" and "Into the Dalek" as great examples of the Dalek's potential for exploration beyond their drive to exterminate. The reason they aren't higher on the list is due to the fact that they we got complex political machinations for power grabs the Daleks never grow beyond their superiority. They have individual episodes of complexity but as a faction are unable to get beyond power grabs and their original design. Still, they are popular and have continued to be used through Classic and Modern "Doctor Who" that I suspect we may get that complexity in the future.
2nd) The Zygons
The Zygons are a group of survivors. First introduced during Tom Baker's run as the 4th Doctor these aliens first sought to conquer Earth after learning their planet was destroyed. These metamorphic aliens are able to shapeshift and infiltrate societies and their technology is all organic. They failed in their initial invasion and wouldn't appear again until the 50th Anniversary Special "The Day of the Doctor." It is in "The Day of the Doctor" where they are attempting to invade again until the Doctors (War, 10 and 11) forces a peace with Earth and they take human form and part of human society. This is until a faction wants to live as Zygons again and we get "The Zygon Invasion" and  the "The Zygon Inversion." The 12th Doctor once again forces a peace (and gives the best Doctor speech on the horrors of war, Capaldi is one of my favorite Doctors and is amazing) but I'm curious where things are going to go from here. The Zygons are refugees whose culture has been subsumed by humanity and they cannot even be themselves to a degree from all that they see. I hope that is explored further as they are a species without a home and easily one of the craftiest factions the Doctor has faced and the faction that has now forced humanity to face it's propensity for war twice that we know of. They have such a cool design and it is when their organic technology and diversity of thought is on display that really makes them stand out to me. They almost made my number 1 but didn't because they are so often presented in the human shifted form and sadly have been forced to live in that form now for most of their time since returning to the show. They were also used as joke in "The Day of the Doctor" which also hurt where I placed them on the list.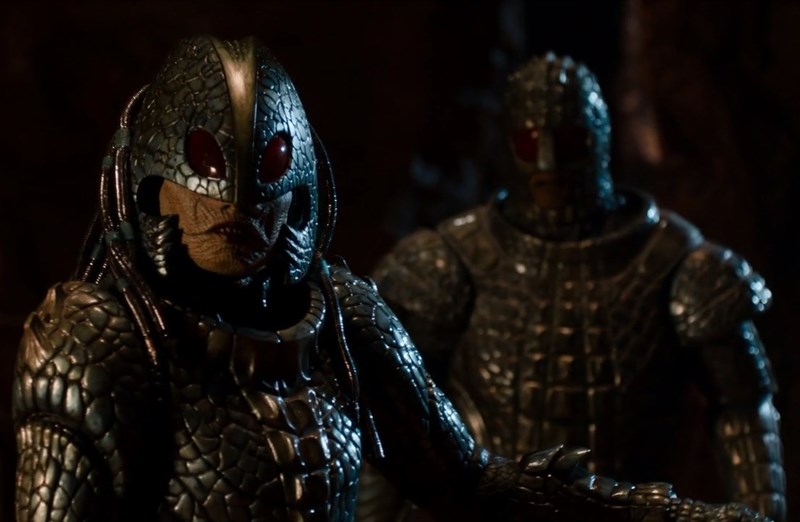 1st) The Ice Warriors 
The Ice Warriors like the Zygons is a species of survivors. They were once a huge empire but when we meet them for the first time during the 2nd Doctor, they are introduced as the last of their species as their home planet Mars is now dead. Like the Zygons those thawed out of the ice try to conquer Earth and are stopped. We do not see them again until the modern era and the 11th Doctor's "Cold War" where we see an ice warrior out of it's mechanical suit held hostage on a Russian submarine. This species is dangerous in combat and in "Cold War" takes out any threat against it until the Doctor eventually reasons with it and it is rescued by a remaining Ice Warrior ship. We see them once more in "Empress on Mars" where like "Cold War" they are facing off against humans. Their Empress does not trust and it takes a lot of death, before there is finally peace. Unlike the Zygons who are forced to look like humans the Ice Warriors always stay as they are when peace is formed and there is so much more power in that as they are a unique culture. This culture is one built around a hierarchy, honor and an Empress as the leader. I have yet to watch a bad story with them and the episodes they appear in are some of my favorite of "Doctor Who." I hope to see them in more stories as the complexity of diplomacy and finding peace has been illustrated beautifully with them twice.
That is my list. If you have one of your own I'd love to read them in the comments. This was fun to do as it has been quite some time since I've written about "Doctor Who."