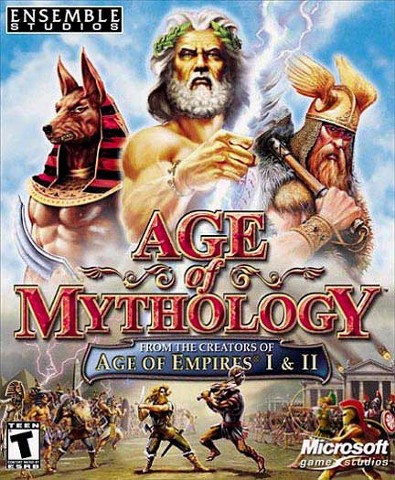 I've been playing "Age of Mythology" and having a lot of fun. Because of this I plan to give each campaign (DLC or otherwise) and individual review. Story and gameplay are my main draws for games it was fun going to replay the campaign I first beat in High School. I'll do an overall grade of "Age of Mythology: Extended Edition" once all are complete.
"Age of Mythology" was developed by Ensemble Studios and produced by Microsoft Games.
The story follows Arkantos as he seeks to stop Gargensis and his plot to raise the Titan Kronos using one of the entrances to the Underworld.
SPOILERS ahead
The Pros:
The Gameplay – I am a huge RTS fan and "Rise of Nations" and "Age of Empires II" were the games that first made me fall in love with this style of game. "Age of Mythology" is like "Age of Empires II" in gameplay as it depends more on balanced large army variety than Hero style strategy of games like "Warcraft III." I had a great time going back and playing this game on Steam.
The Campaign – The Campaign is simple but it does have a few twists. You have Arkantos seeking to save Atlantis and keep Gargensis from unlocking Kronos from the underworld. From here you get the chance to choose from a variety of Gods and play as the Norse, Egyptian and Greek powers. Each have their own unique strengths which made the game fun.
Mission Variety – One of the stronger parts of the game is the mission variety. You have defense, rescues and protecting the point and moving it along. You start out with different weaknesses in each mission too which kept the game interesting.
Egyptian Campaign – The Egyptian Campaign was one of my favorite as Kemyst and Set remained a constant threat and I felt like an underdog throughout the campaign when Arkantos, Ajax and Chiron teamed up with the Nubian Queen Amanra. She is one of my favorite characters in this series and it was awesome seeing her rise and liberation of Egypt from Kemsyt and Set and the resurrection of Osisris.
Norse Campaign – The Norse campaign is fun but none of the characters stand out as much as Amanra. They make up for this by having some of the best mythic units in the game. I loved fighting with the Valkyrie, Hill, Frost and Fire giants. Their playstyle of soldiers being builders made their campaign interesting too as well as you having to unite all the fighting Norse clans. The underworld sequence here is the best of the bunch as well as you rebuild Thor's Hammer.
Final Mission – The final mission is a lot of fun as Gargensis destroys your allies camps and you are under constant attack. You make up for this by Zeus blessing Arkantos and defeating the Poseidon statue to finally defeat Gargarensis.
Okay:
Arkantos – Arkantos is pretty bland. He isn't annoying so I'm not putting him as a con but I can't think of anything that seperates him from if I'd been given Hercules or Jason as the primary hero to play. He is the ruler of Atlantis and that is the only noteworthy thing about him. He also becomes a God at the end.
The Greek Campaign – The Greek campaign has good variety but is also tedious and has a side quest (saving Odysseus) to end it. I didn't hate it but I loved the higher stakes in the other campaign. This one felt way too much like an introduction when it could have been more.
The Con:
Kemsyt's End – Amanra is seeking revenge against Kemsyt and she doesn't get it since Loki transforms him to look like Gargensis, so Arkantos gets the kill. This annoyed me as they had personal beef and she got shafted from that revenge.
Gargarensis Always Losing – Gragarensis always loses so him being this big world ending threat never felt as big as it could have been. This was a shame as his design as this giant cyclops is great. His working with Loki and Kemsyt was cool too. Sadly I did not get why people followed him. He needed a win that we could see besides his taking of Atlantis at the end.
Bugs – In one mission the game slowed down to the point of nearly being unplayable and the sound looped. It only worked with restarting the game. This game has been out for a long time, there shouldn't still be bugs like this.
This was a really fun game to return back too and I can't wait to play the other campaigns. Beyond the awful bug that happened during the Kemos mission I had a lot of fun returning back to this world. As a fan of mythology this gives you a fun chance to experience these mythologies briefly and gives a solid arc with the Atlantis story. I'm curious to see how the other stories hold up compared to this one.
Final Score: 7.5 / 10